One of the best ways to experience Guam is to get out on the water! What better way than to hire a fishing charter–especially if you're interested in trolling and deep sea fishing. Whether you're a fishing enthusiast or have never fished before, Guam has a number of fishing charters, all which make it their mission to not only catch fish, but to also provide you, your family, and your friends with a great time and a memorable experience.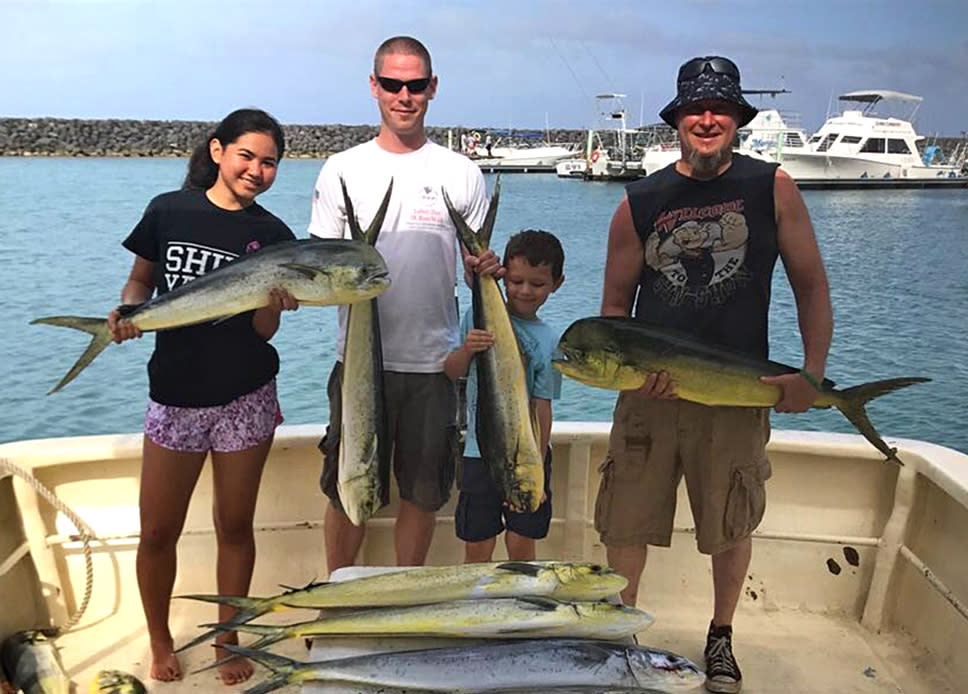 Heritage Charters 
Heritage Charters' 50 ft. Yamaha is a vessel made for withstanding rough waters, which makes it perfect for fishing in the south. Captain Carlos Quinata has been fishing in Guam's waters for the last 25 years, and he knows how to follow the fish and bring in a good haul, so that even the most unlucky fisherman can go home feeling like a success. A respectful and daring lover of the ocean, Captain Carlos ventures to fish in areas that aren't popular with other fishermen.
Heritage Charters offers short and long-range fishing trips off the banks of Guam's southern shores, spanning from 4 to 6 hours, with prices ranging between $425 to $525. If fishing in the evening piques your interest, Heritage Charters can also take guests on 3-hour night-time fishing, jigging, and shallow bottom fishing and flagging trips for just $300. At the end of each trip, the crew will clean and bag the fish that was caught for their guests to take home to enjoy. Captain Carlos and his skilled crew make it their mission to make deep sea trolling and bottom fishing accessible, affordable, and rewarding for visitors and locals alike.
For more information on how to go on an watery adventure with Captain Carlos and his crew, visit fishguam.com.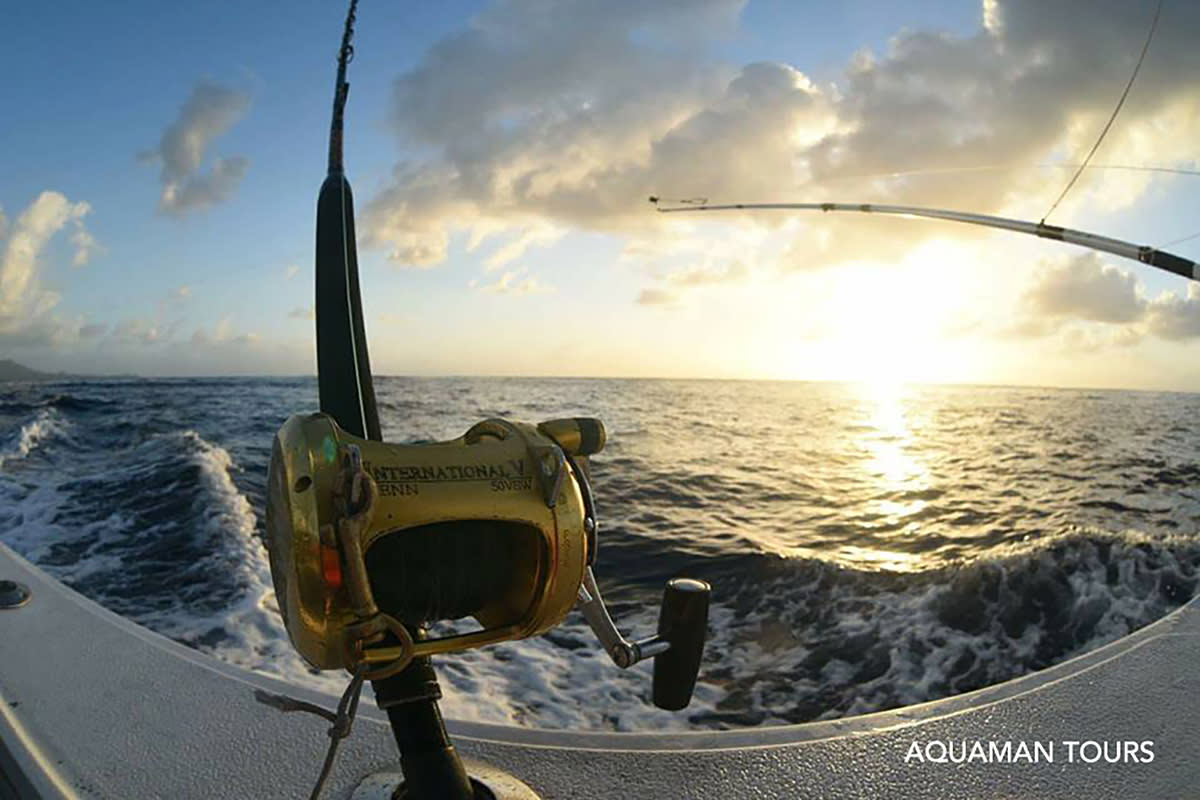 Aquaman Charters
Captain Gie of Aquaman Charters Guam has been fishing for as long as he can remember, and he's been fishing on Guam since he moved here from the US mainland 25 years ago. His fishing charter, which has been around for eight years, launches out of the Aquaworld Marina in Piti, where the water's depth increases almost immediately and allows for the trolling to begin early on in the trip. Aquaman offers a $500 four-hour charter, $625 six-hour charter, and a $750 eight-hour charter.
The boat can head north or south, depending on the weather and the swimming patterns of the fish that are in season. They troll for wahoo, mahi-mahi, tuna, and marlin. Captain Gie says marlin can be caught just a quarter of a mile from the shore, especially in the summer. Some of the special features of Aquaman's spacious, 31-foot Shamrock are the fighting chair, which helps when you're trying to catch big fish like marlin, and the cabin, where guests can use the restroom or just take a break from the ocean spray. After each trip, he and his crew make sashimi for their guests on the boat's private and shaded dock.
For more information on how to join Captain Gie and his crew or to see epic fishing pictures, visit aquamanchartersguam.com or find Aquaman Charters Guam on Facebook.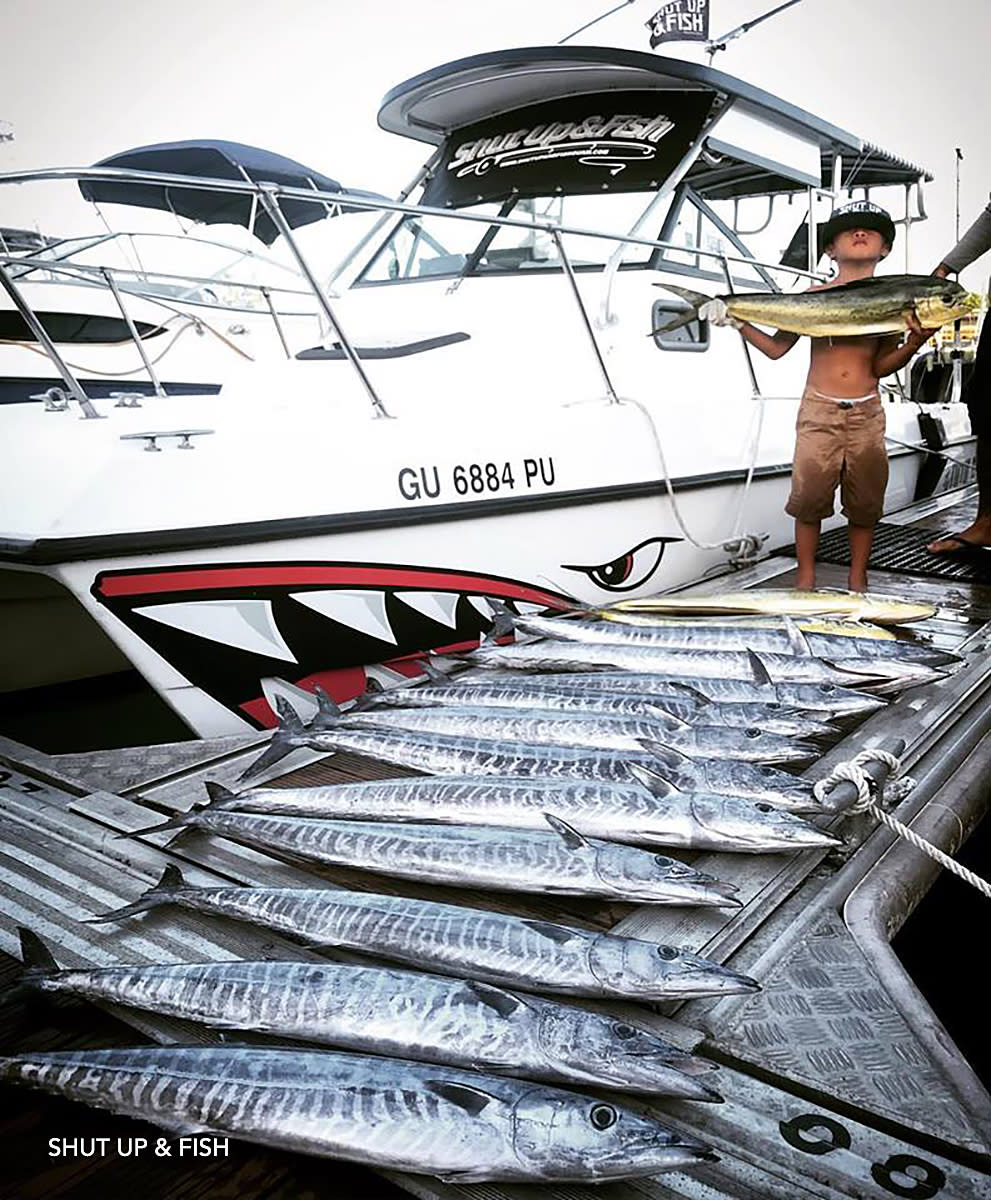 Shut Up and Fish
Shut Up and Fish offers three to six-hour charters, for up to six passengers, ranging from $500 to $600. Along with making sure you have the right fishing gear, providing refreshments during the trip, bagging the catch, and preparing fresh sashimi at the end, the Shut Up and Fish crew also takes pictures of you and your friends, and creates a personalized video of your trip to make sure your memories of the charter never fade.
They launch from Agana Boat Basin and head north to troll wahoo, yellowfin, marlin, mahi-mahi, and tuna. They also offer bottom fishing and snorkeling. Joaquin Cruz is the captain of the Don Pedro, a double-hull Catamaran, which ensures a smoother, faster ride than most charters. Captain Joaquin learned to fish from his father, and has been professionally fishing for the last ten years.
Shut Up and Fish is a clothing and gear brand centered around fishing that has been around for five years, with the charter service in operation for the last two years. They guarantee an unforgettable time and a rewarding fishing experience.
To learn more, visit shutupandfishguam.com and check out their pictures and videos on Instagram and YouTube.