The Guam Visitors Bureau (GVB) has partnered with the Guam Department of Public Health and Social Services (DPHSS) on June 13, 2022 to offer free COVID-19 testing (PCR and Antigen) for local residents and visitors to Guam. Tests are being administered at several locations for convenience to our visitors. In the new travel environment, GVB hopes this program will provide a smooth and enjoyable travel experience for all who choose to visit our paradise in the Pacific. Please review more details about this program below.
---
IMPORTANT NOTICE

(as of FRIDAY, SEPTEMBER 30)
The Hyatt Regency Guam COVID-19 Testing Site
IS NOW CLOSED
---

THE PLAZA SHOPPING CENTER Schedule:
9:00 AM - 12:00 PM
2:00 PM - 4:00 PM
---
These testing sites offer free COVID-19 PCR and Antigen tests.
PCR results will be ready for pick up in 24-48 hours.
Antigen results will be ready for pickup in 30-60 minutes.
---
Starting on August 10, 2022, the COVID-19 testing sites will provide COVID-19 testing
depending upon your destination.

Please ensure that you take your COVID-19 test within the required timeframe
according to your country's entry protocols.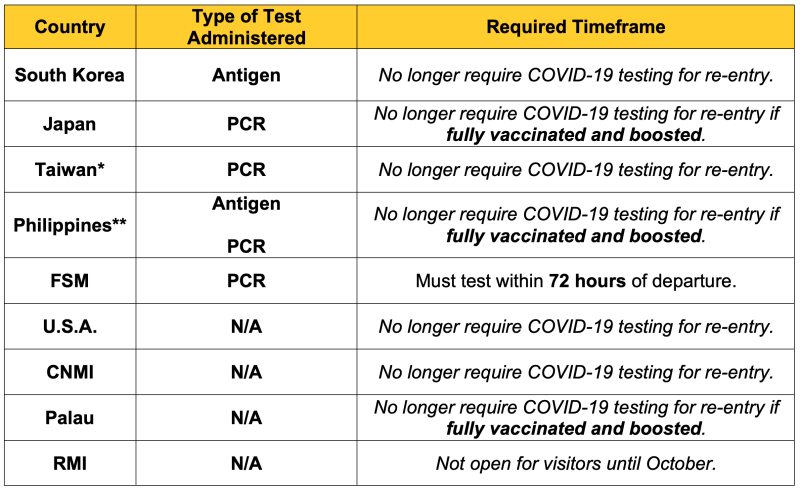 *Effective on July 14, Taiwan does not require a negative PCR test results for Taiwan passport holders,
ARC holders, and transit passengers in order to enter Taiwan.
**COVID-19 testing is not required if traveler is boosted (over the age of 18 years old) or fully vaccinated (12 to 17 years old). 
Travelers below 12 years old are not required to take a COVID-19 test if they are accompanied by a parent or guardian who is boosted.
Who qualifies for the program?

Local residents or any visitor can qualify for this free COVID-19 (PCR and Antigen) testing program.
A local resident is defined as a person who officially resides on Guam.
A visitor is defined as any person who permanently or habitually lives in an area outside of Guam.
This also includes former residents living outside of Guam who are returning to visit friends and relatives.

What kind of test is available under this program?

This program offers free PCR and Antigen tests.

When will travelers receive their test results?

PCR results must be picked up at the location that the COVID test was administered 24-48 hours from the time of testing. 
Antigen results must be picked up at the location that the COVID test was administered 30-60 minutes from the time of testing. 
Results are subject to delay based on laboratory capacity and business hours of operation.
Tests will be processed during business hours only.
It is the responsibility of the traveler to get tested within their required travel window as depicted by their airline and travel ticket.
It is the responsibility of the traveler to verify their information is correct and will be accepted by the airline and the country of return.
GVB and participating clinics will not be financially responsible for:

airline change fees
rebooking fees
cancellation fees
other flight arrangements
room accommodations
optional tours
reservations
or lost wages

For any questions regarding COVID-19 test results, please email hafaadai@visitguam.com.
---
Process

---
Testing Sites & Hours of Operation
Hotel Nikko Guam | The Plaza Shopping Center | Hyatt Regency Guam | Pacific Islands Club Guam
See maps below. (All testing sites are located on the LOBBY LEVELS of the hotels and the "GROUND FLOOR" of the The Plaza Shopping Center.)
Open Daily: 9:00am to 12:00pm & 2:00pm to 4:00pm
---
The Plaza Shopping Center