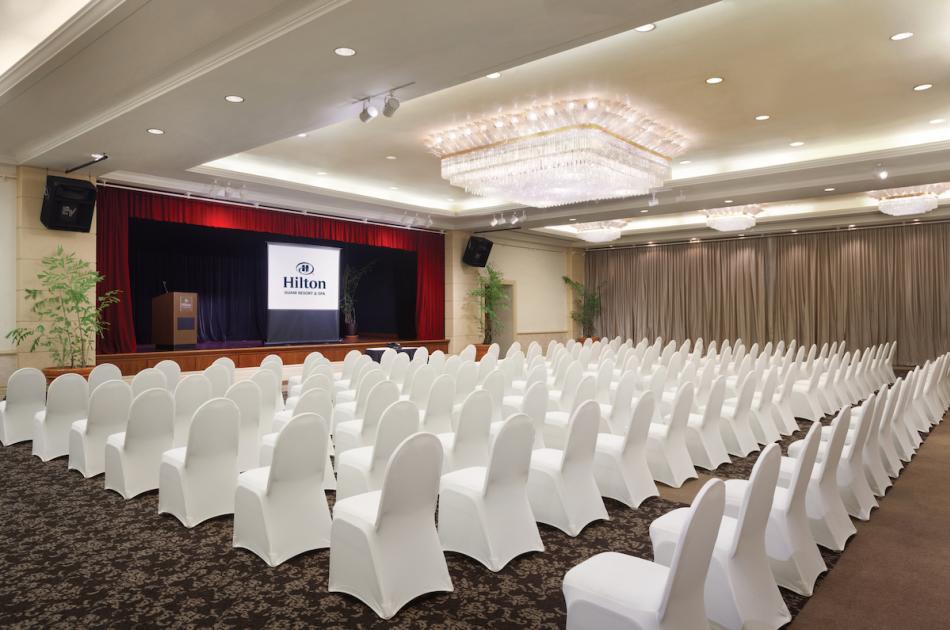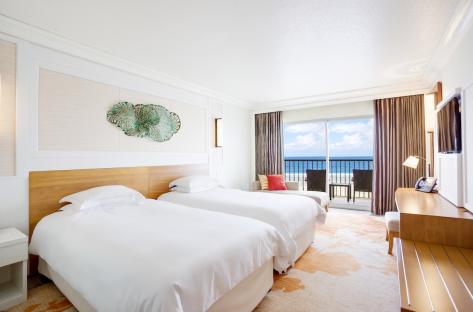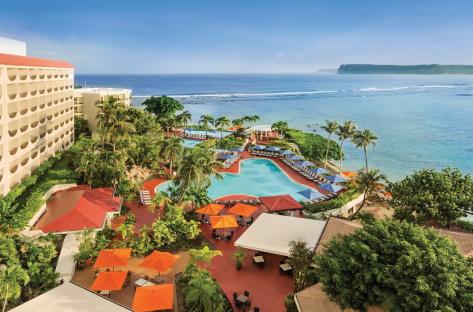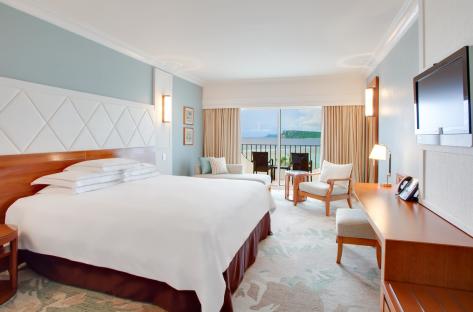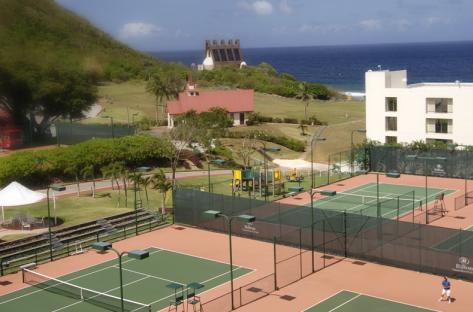 about

关岛希尔顿度假酒店

关岛希尔顿度假酒店为正规停留型国际饭店。有 5 个泳池、孩童房、健身房、气泡按摩池、三温暖、矿泉疗养地,加上「活动程序」「家庭程序」。各种餐饮设施亦甚充实。


Located on the southern end of Tumon Bay - Guam's major tourist center, Hilton Guam Resort & Spa sits on 32 acres of prime beachfront property with magnificent views of Two Lover's Point & Tumon Bay.

Three buildings comprise the hotel - the Premier Tower, the central Main Tower and the Tasi ("Ocean") wing, totaling 646 guest rooms and suites, seven restaurants and bars, Resopa Water Park, five tennis courts, Wellness Center, computer workstations in the lobby, and Kidz Paradise play room.

The Premier Tower hosts the Executive Floors, the 6th through 8th floors. Executive Floor accommodations offer guests upgraded amenities, and convenient business amenities. An exclusive Executive Floor Lounge located on the 7th floor offers complimentary breakfast and afternoon beverages/snacks for Executive Floor guests. To assist the guests' special needs, a dedicated Executive Floor Manager is assigned to these floors. A private boardroom, computer room, broadband Internet access and facsimile/E-mail access in all guestrooms are just some of the special services that are available for Executive Floor guests.

Corporate business travelers may opt to stay in one of the Main Tower's Business Suites, which are double room suites equipped with a computer workstation, executive style desk and chair, dedicated phone line and a mini-conference table and an adjoining bedroom.

Business and leisure guests may avail of the computer workstations in the lobby.

The Tasi is Hilton Guam Resort & Spa's "hotel within a hotel" experience. Tasi guests enjoy personalized check-in and check-out desk, 24-hour concierge service, nightly turndown, and a welcome drink. A total of 95 ocean view rooms comprise The Tasi with premium amenities and features. With an enclosed sky-lit atrium, The Tasi Lounge defines relaxation and the wing's friendly team members provide exemplary service.

Hilton Guam Resort & Spa boasts of a wide variety of restaurant choices. In the hotel's main lobby, Caffe Cino is open 24-hours daily and serves light snacks and beverages along with a complete selection of freshly baked breads, desserts, pastries and espresso coffee. For informal dining and sumptuous buffets, Islander Terrace is very popular with both visitors and local patrons alike.

For a unique dining experience, Roy's Restaurant offers its acclaimed Hawaiian Fusion cuisine in an ambiance of soothing tropical elegance. Open nightly for dinner, Roy's innovative cuisine incorporates a skillful combination of Asian spices, Pacific ingredients and European techniques to produce dishes that are superbly pleasing to both the eye and the palate.

Following the seafood market concept, Fisherman's Cove features Guam's freshest seafood in a grand display for guests to choose from. Once seafood items are selected from the display, restaurant chefs prepare the items to guest preferences. A la carte and children's menus also are available, as well as a selection of steaks and other meats.

Fisherman's Express is Hilton Guam Resort & Spa's newest restaurant. Enjoy specialty Shellfish Rolls from Lobster, Shrimp, to Crab, or make it a combo. Your choice of seafood seasoned to perfection then served on a hot toasted bun.

For evening activities, both Roy's Lounge, located adjacent to Roy's restaurant, and Tree Bar, located at poolside outdoors overlooking scenic Tumon Bay, offer an excellent selection of beverages and appetizers. On selected evenings, both venues offer contemporary live music by local artists with a dance floor also available at the Tree Bar.

Tree Bar also is the venue for Tropics BBQ, where guests are treated to the fervour and excitement of local cultural entertainment while feasting on an array of all-you-can-eat barbecued sirloin, chicken breast, spare ribs, and assorted fresh seafood in addition to various appetizers, salads, breads and desserts.

Sports enthusiasts can take advantage of Hilton Guam Resort & Spa's tennis facility, which is the most extensive on Guam, featuring five floodlight tennis courts. Other outdoor facilities include the action-filled RESOPA Water Park, hot tub, children's playground and activities room, supervised health activities and exercise for all ages, jogging and walking trails, private beach and a beach club offering a variety of watersports equipment rental. Additional sports facilities include a state-of-the-art Wellness Center with Fitness by Precor machines, free weights, exercise mats and balls and single-sex saunas.

Hilton Guam Resort & Spa paints a picture-perfect setting for travellers in search of timeless relaxation and leisure. Guests can relax in idyllic tropical surroundings while trained hands of Spa Ayualam staff provide soothing services in unhurried fashion available in the comfort of their massage rooms.

Major tourist attractions, diving, deep-sea fishing and world-class golf facilities are easily accessible from Hilton Guam Resort & Spa and are just a few minutes drive from the hotel. Guests can easily arrange any optional tour from the hotel's convenient tour desk offices where representatives of major tour operators are located. Guam's Antonio B. Won Pat International Airport is only 2.5 miles from the hotel with shuttle services offered for hotel guests at a nominal fee.

Serving the island for over 45 years with exemplary service and hospitality, Hilton Guam Resort & Spa has grown in step with the island's expanding tourism industry. Yet, throughout this growth, the Hilton Guam Resort & Spa has retained the heritage and flavour of the island while maintaining the world-class standards of service that has become synonymous with Hilton Hotels Worldwide.

Hilton Guam Resort & Spa, the place you'd rather be.
General

Number of Guest Rooms:

646

Number of ADA Accessible Guest Rooms:

14

Number of Connecting Guest Rooms:

164

Suites Available:

Vacation Rental:

1-Bedroom Units:

2-bedroom Units:

Complimentary Membership for Guests:

Long Term Accommodations:

Military Discount:

Non-smoking Rooms:

Oceanfront:

Resort:

Suites:

Travel Agency Commission:

In-Room

Air Conditioning:

Cable:

Color TV:

Daily Newspaper:

Free Newspapers:

Hair Dryer:

High Speed Wireless Internet:

Iron & Ironing Board:

Jacuzzi:

Kettle:

Radio Alarm Clock:

Refrigerator:

Roll-in Shower:

Room Safe:

Rooms with Private Bath:

Safe:

Telephones:

Television:

On-Site

Airport Shuttle:

Barbeque:

Childrens Programs:

Coffee Shop:

Concierge Desk:

Entertainment:

Exercise/Fitness Facilities:

Free Parking:

Full Bar/Lounge:

Gift Shop:

Handicapped Facilities:

Happy Hour:

Hotel Bar:

Internet - Free:

Internet - Wireless:

Intracoastal/Waterfront:

Jacuzzi:

Kayaks:

Laundry Facilities:

Laundry Service/Drycleaning:

Lounge/Bar/Restaurant:

Meeting Facilities on Site:

Outdoor Dining:

Outdoor Event Venues:

Outdoor Pool:

Rental Cars on Site:

Restaurant:

Restaurant on Site:

Restrooms:

Shuttle Service - Airport:

Snack Bar:

Spa on Site:

Swimming Pool:

Valet Parking:

Washer/Dryer:

Watersport/Beach Gear Rentals on Site:

Wireless Internet:

Dining

100% Smoke Free:

Alcohol Served:

Breakfast:

Dinner:

Entertainment:

Family Friendly:

Group Dining:

Groups:

Live Music:

Lunch:

Non Smoking:

Outdoor Seating:

Private Club:

Private Rooms Available:

Reservations Accepted:

Sunday Brunch:

Take Out:

WiFi Access:

Entertainment

Alcohol:

Live Music:

Private Rooms Available:

General

Boutique/Shop:

Full-Service Restaurants:

Parking:

Description

.ヒルトングアム・リゾート&スパは1972年、グアムに最初のリゾートホテルとして誕生しました。タモン湾南側の緑豊かな丘の上、恋人岬や紺碧の太平洋を一望する極上のロケーション、32エーカーの広大な敷地には熱帯の花と緑あふれる大自然が広がります。異なるコンセプトに基づき、独立した存在感を漂わせるメイン、プレミア、タシの客室棟はお客様のニーズに合わせてご利用いただけます。地元ゲストにも人気の高いレストランとバー、ゆったりと癒される極上のスパ、海に開かれたインフィニティープールを含む五つのプール。グアムでも最大級のテニスコートとウェルネスセンター、亜熱帯植物が生い茂るトロピカルガーデンやタモン湾を望む絶景のチャペルなど多彩な施設とアクティビティーが充実。すべてのゲストを満たす心豊かなおもてなしで、ハイエンドな魅力にあふれたリゾートステイをご堪能いただけます。

Floorplan File

Floorplan File

Largest Room

3600

Total Sq. Ft.

3215

Reception Capacity

350

Theatre Capacity

325

Audio/Video Capabilities

true

Beach BBQ

true

Business Center

true

Coffee Shop

true

Concierge Services

true

Dinner Show

true

Group Buffet

true

Health Club / Gym

true

Internet

true

Laundry

true

Ocean Views

true

Outdoor Pool

true

Parking

true

Rental Car Services

true

Spa

true

Wedding Chapel

true

Wheelchair Accessible

true

Banquet Capacity

250

Number of Rooms

7

Classroom Capacity

120

Sleeping Rooms

648

Chuchuko Room

Total Sq. Ft.:

992

Width:

32

Length:

31

Theater Capacity:

72

Classroom Capacity:

44

Banquet Capacity:

70

Reception Capacity:

113

Micronesian Room

Total Sq. Ft.:

3600

Width:

45

Length:

80

Theater Capacity:

325

Classroom Capacity:

120

Banquet Capacity:

250

Reception Capacity:

450

Chichirika Room

Total Sq. Ft.:

825

Width:

25

Length:

33

Theater Capacity:

45

Classroom Capacity:

36

Banquet Capacity:

40

Reception Capacity:

80

The Gallery

Total Sq. Ft.:

1680

Width:

56

Length:

30

Theater Capacity:

100

Classroom Capacity:

70

Banquet Capacity:

120

Reception Capacity:

150

Caffe Cino Private Dining Room

Total Sq. Ft.:

973

Theater Capacity:

47

Classroom Capacity:

36

Banquet Capacity:

49

Reception Capacity:

49

Boardroom 1 (Hallo Square 18)

Total Sq. Ft.:

360

Width:

24

Length:

15

Banyan Point

Banquet Capacity:

50

Reception Capacity:

80

Lanai

Total Sq. Ft.:

2185

Banquet Capacity:

84

Reception Capacity:

120