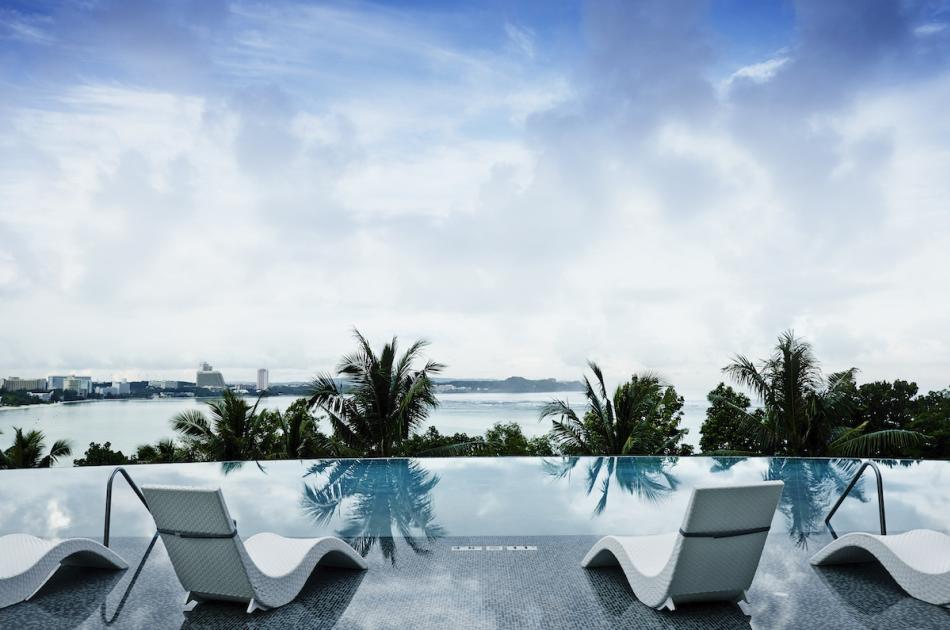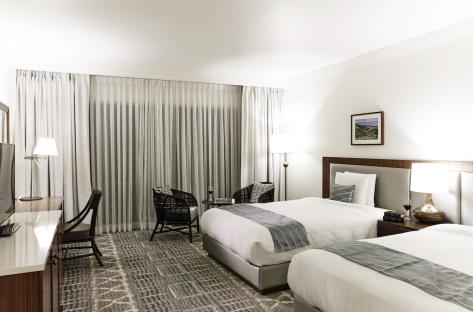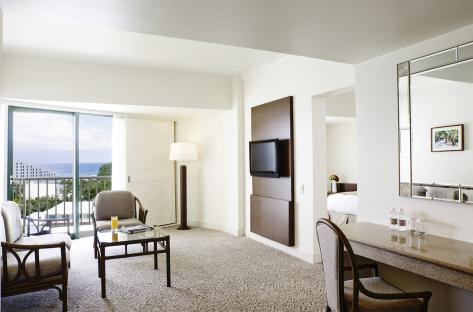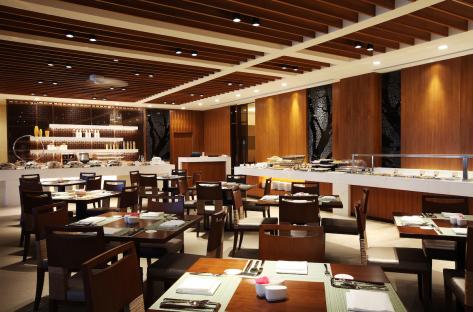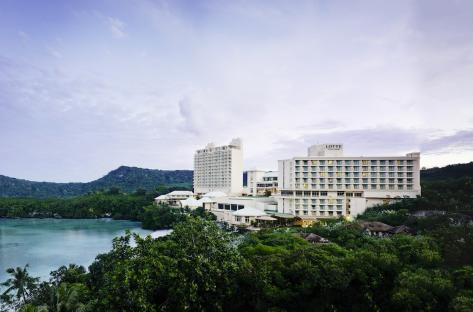 about

Lotte Hotel Guam

LOTTE HOTEL GUAM is a splendid 5 star hotel that sits on beachfront prime property with gorgeous views of Tumon Bay. It is conveniently located within 15-minute by car from the airport, and 5-minute walking distance to Pleasure Island, the tourist district of Guam where fabulous restaurants, cafes, and shopping centers are nearby and within an easy reach. Our magnificent lobby and unique terrace overlooking Tumon Bay will give every guest an awesome feeling of belonging.


Lotte Hotel Guam, where luxury and elegance greet you the instant you step inside. The splendid 5 star hotel sits on beachfront prime property with breathtaking views of Tumon Bay. It is conveniently located within walking distance to Pleasure Island, the tourist district of Guam where name brand restaurants, cafes, and shopping centers are within reach.


Our magnificent lobby and unique terrace overlooking Tumon Bay will give every guest a sense of belonging. All of our 222 guest rooms are contemporarily designed and decorated without compromising comfort and style. Combine the wonderful hotel facilities from our La Seine Restaurant to our exclusive Club Lounge, with our exceptional service provided by our excellent and professional staff, each guest will experience hospitality at its finest.



OUR ROOMS:

The 222 luxurious guest rooms each has its own private balcony that over-looks the panoramic view of Tumon Bay. The 222 rooms consisting of two ridges. Our Tower Win houses 150 guest rooms, and Island Wing house 72 guest rooms. Most of our rooms offer stunning ocean view, where guests can enjoy our beautiful spectacular sunsets. All rooms are centrally air-conditioned with individual room temperature control.


The bathrooms all have bath tubs and separate showers with handheld showerheads. Relax in one of our spacious guest rooms and suites which features in room safe deposit box, coffee/tea hot pot, flat-panel television with premium cable channels, mini fridge, high quality amenities and wireless internet access. Your stay will not only be pleasurable but it will be an ultimate comfort and convenience that will refresh your mind and body.



OUR CLUB LOUNGE:

The Club Lounge guests will enjoy the panoramic view ocean of Tumon Bay. We offer special hospitality to guests who choose to stay in our club level or higher floors.


The Club Lounge is located on the 3rd Floor, Tower Wing. Hours are from 7:00~21:00.


Lounge Benefits:

Breakfast (Hours 7:00~10:00)

Afternoon Tea (Hours 14:00~17:00)

Cocktail Hour (Hours 17:00~19:00)

Business Center (Hours 7:00~21:00)

(Complimentary 10-page Print & Copy (B&W))


Eligibility: Oceanfront Club ★, Junior Suite ★, Premier Suite ★, Presidential Suite ★, Poolside Club ★, Pool Access Club ★, Pool Side Suite ★, Pool Access Suite ★




OUR RESTAURANTS:


La Seine

– Aptly named after a famous river in France, this elegantly and luxurious decorated restaurant is ideally located at the lobby level of the hotel. La Seine serves delectable breakfast, lunch and dinner buffet featuring mostly Western favorites with a splash of Eastern cuisine. We feature themed nights' dinner buffet from island favorites to Asian from Western Cuisine.


Breakfast 6:30am ~ 10:00am

Lunch 11:30am ~ 2:30pm

Dinner 6:00pm ~ 9:30pm

Sunday Brunch 11:00am ~ 2:30pm


A special restaurant feature is our open kitchen stations that will prepare mouthwatering dishes for everyone's distinct taste. A wide array of delicious selections combined with floor ceiling windows, guests will enjoy the unobstructed and panoramic view of Tumon Bay making every dining experience memorable.


The Lounge & Deli

– Conveniently located at the lobby, this trendy design of the lounge offers comfort and a relaxing atmosphere. Our unique terrace where you can watch and enjoy the view of the ocean and watch the sunrise or sunset. For more relaxing and memorable experience, enjoy the mouthwatering tropical juices and cocktail mixes and a wide variety of A La Cart menu that will please your palate.


Hours: 8:00am ~ 12:00am



Horizon Café and Pool Bar

– Relax and enjoy the beautiful sunset while sipping a drink at the pool bar. Guests can unwind after a long day shopping and sightseeing by lying down on the sun bed over-looking our infinity pool. With a variety of local favorites as well as our freshly made sandwiches, juice, and different snacks to choose from combined with the gorgeous view of Tumon Bay "happy hours" becomes a whole new experience for everyone.


Hours: 10:00am ~ 9:00pm





OUR POOL:

Soak up the sunshine as you relax on our expensive pool decks with comfortable lounge chairs, umbrellas, along with our outdoor sunbeds to get that perfect tan. We also offer cabana's for your privacy. A children's pool is available. Guests can relax on the poolside and enjoy their favorite beverages to quench thirst.



OUR BANQUET:

Our Ballrooms boast a panoramic view of the turquoise waters and white sand beach of Tumon Bay. Whether its conference or wedding reception, the various size of ballrooms are the ideal place to host any event. With our elegant choices of table covers and accessories combined with our selection of scrumptious menus to choose from, your party will surely be a memorable one for years to come.




AMENITIES:


WIFI

Complimentary in all guest rooms, lobby, swimming pool, kids' room, fitness room, restaurant, lounge


Payment Type

All Major Credit Cards, Cash & Travelers Check


Power Supply/ Outlet

120V (60HZ) / A type


Beach Towel Rental

Available (One piece complimentary)


Bottled Water

*Suites, Club and Family Suite Rooms – Daily

*Standard Rooms - Upon Check In Day Only


Laundry Service

Available. *Coin Operated Machines.


Wheelchair

Available upon request.



LOCATION:

Lotte Hotel Guam is located on Tumon Bay, walking distance to Pleasure island, the tourist district of Guam, where shopping, entertainment and brand restaurants are found. The hotel is 15 minutes away from Antonio B. Won Pat Guam International Airport by vehicle and easy access to other major tourist attractions on the island.
General

Number of Guest Rooms:

222

Number of ADA Accessible Guest Rooms:

4

Suites Available:

100% Smoke Free:

1-Bedroom Units:

2-bedroom Units:

Efficiency:

Long Term Accommodations:

Military Discount:

Mobil Rated:

Non-smoking Rooms:

Oceanfront:

Resort:

Suites:

Travel Agency Commission:

In-Room

Air Conditioning:

Cable:

Coffee and/or Tea maker:

Color TV:

Daily Newspaper:

Express Check-in/out:

Free Newspapers:

Full Kitchen:

Fully Equipped Kitchens:

Hair Dryer:

High Speed Wireless Internet:

Iron & Ironing Board:

Iron/Ironing Board:

Kettle:

Kitchenette:

Microwave:

Radio Alarm Clock:

Refrigerator:

Roll-in Shower:

Room Safe:

Rooms with Private Bath:

Safe:

Smoke-Free Rooms:

Telephones:

On-Site

A/V on Site:

Airport Shuttle:

Breakfast Included - Continental:

Breakfast Included - Full:

Bus Parking:

Business Center:

Business Services:

Club Level Floor:

Coffee Shop:

Concierge Desk:

Conference Center on SIte:

Entertainment:

Exercise/Fitness Facilities:

Free Parking:

Full Bar/Lounge:

Gift Shop:

Handicapped Facilities:

Happy Hour:

Hot Tub:

Hotel Bar:

Internet - Free:

Internet - Wireless:

Kayaks:

Kiddie Pool:

Laundry Facilities:

Lounge/Bar/Restaurant:

Outdoor Dining:

Outdoor Event Venues:

Outdoor Pool:

Pontoon:

Pool:

Recreation Center:

Rental Cars on Site:

Restaurant:

Restaurant on Site:

Restrooms:

Self & Valet Parking (Charges Apply):

Shuttle Service - Airport:

Shuttle Service - Port:

Snack Bar:

Spa on Site:

Sunday Brunch:

Swimming Pool:

Tennis:

Unwind Hour:

Valet Parking:

Washer/Dryer:

Watersport/Beach Gear Rentals on Site:

Wireless Internet:

Description

Our Ballrooms boast a panoramic view of the turquoise waters and white sand beach of Tumon Bay. Whether its conference or wedding reception, the various size of ballrooms are the ideal place to host any event. With our elegant choices of table covers and accessories combined with our selection of scrumptious menus to choose from, your party will surely be a memorable one for years to come. See photos of various ballrooms in gallery. Crystal Ballroom (with Pre-Function Space) (above).

Floorplan File

Floorplan File

Largest Room

479

Total Sq. Ft.

479

Reception Capacity

340

Space Notes

(Note on measurements: room-size/area in square meters, room dimensions and ceiling height in meters)

Theatre Capacity

600

Banquet Capacity

340

Number of Rooms

5

Classroom Capacity

320

Sleeping Rooms

222

Crystal Ballroom

Total Sq. Ft.:

9289

Classroom Capacity:

320

Banquet Capacity:

340

Crystal Ballroom (pre-function space)

Total Sq. Ft.:

384

Width:

14.5

Length:

24.4

Height:

4.9

Charlotte I

Total Sq. Ft.:

743

Classroom Capacity:

27

Banquet Capacity:

30

Charlotte II

Total Sq. Ft.:

743

Classroom Capacity:

27

Banquet Capacity:

30

Charlotte III

Total Sq. Ft.:

62

Width:

6.9

Length:

8.7

Height:

3.5

Theater Capacity:

50

Classroom Capacity:

27

Banquet Capacity:

30

Reception Capacity:

50

Emerald

Total Sq. Ft.:

3907

Classroom Capacity:

110

Banquet Capacity:

120

Emerald Pre-Function

Total Sq. Ft.:

78

Width:

4.7

Length:

16

Height:

3.7