Festival Theme
"WHAT WE OWN, WHAT WE HAVE, WHAT WE SHARE, UNITED VOICES OF THE PACIFIC" Håfa Iyo-ta, Håfa Guinahå-ta, Håfa Ta Påtte, Dinanña' Sunidu Siha Giya Pasifiku
On August 4, 2011, under the leadership of Master of Chamorro Dance Frank Rabon, Governor's appointee to the Festival Organizing Committee, a community gathering of traditional "Fafana'gui" (teachers) took place and began the process of developing the 2016 Guam Festival Theme and Logo.
Discussions dictated that the theme had to represent the  Chamorro's, indigenous people of the Mariana Islands.  Chamorro traditions and culture have been over shadowed by western influences that lead to the loss of connection between the Chamorros and their Pacific brothers and sisters.  The recent resurgence of indigenous identity and cultural preservation started the reconnection with other Pacific island nations.  The struggle of reconnection lead to the following theme:
What we own (I Pa'an Taotao Tano') – Our way of life, our identity as indigenous people.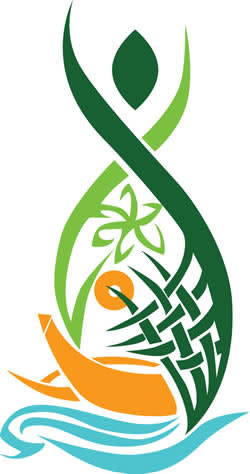 What we have ( I guinahan I Tano' yan I Tasi) – Our resources from land and sea that have sustained our people for thousands of years.
What we share ( Inaafa Maolek) – Our hospitality and our kindness that Chamorros give to all.
United voices of the Pacific (Taihinekok) – Never ending of our people's way of life, the respect from us and to us.
FESTIVAL LOGO
The Latte Stone:  I Tasa yan I Aligi:  Latte is the term for a pillar (aligi) capped by a hemispherical stone capital (tasa) with the flat side facing up.  Used as building/home supports by the ancient Chamorro people, they are found throughout most of the Mariana Islands.  Today, The Latte Stone is an  icon of our Chamorro people, our strength and our resilience.
Sling Stone: åcho' atupat  The signature weapon of the ancient Chamorro warrior, were fashioned from either limestone, basalt, or fire-hardened clay and were hung from slings of made of pandanus or coconut fiber.   Today, these oval-shaped stones is part of the design of the official Guam flag and is incorporated into architectural designs. Like the latte the slingstone is a cultural icon that exhibit Chamorro pride and cultural identity.
The Coconut Tree: Tronkon Niyok.   The tree of life, symbolizes the resources of our land.
Blue Ocean & Outrigger Canoe:  Tasi yan Galaide': Symbolizes our ocean resources as well as connecting us with our pacific brothers and sisters through our seafaring knowledge and skills.