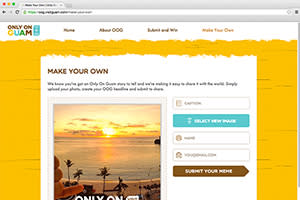 The Guam Visitors Bureau proudly announces the launch of its "Only on Guam" social media contest at oog.visitguam.com. The OOG concept is a  community-generated marketing campaign that celebrates what is unique to Guam through images, thoughts and ideas that capture the essence of the island's people, culture and environment.
"Through the tremendous success of our Only on Guam campaign launch, the conversations about our island home went viral with Guam's online community sharing our OOG video on social media," said GVB General Manager Nathan Denight. "There is so much our island has to offer and we're encouraging our local residents to submit their Only on Guam photos and videos so we can keep the conversations going and bring more people to Guam in 2016. It's more than just about epic sunsets, jungle adventures and culinary experiences. Our people know Guam better than anyone else. GVB is empowering them to tell the island's story through their eyes and be proud of where they come from. There's no place in the world like Guam!"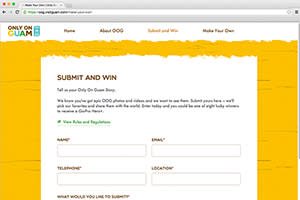 GVB will be giving away a GO PRO Hero+ every week as an added incentive for the public to submit "Only on Guam" experiences, events and activities and share them with an international audience at oog.visitguam.com. The OOG contest begins Monday, August 10, 2015 and will run until Saturday, September 26, 2015 with winners chosen weekly. Participants are also encouraged to check out the site's meme generator and submit photos and videos for a chance to be featured as the OOG PHOTO or VIDEO of the day.