One of the most adventurous and memorable outdoor activities you can experience on Guam is "boonie stomping," which is what locals call hiking through the jungle. Guam's landscape is dotted with stunning off the beaten path sites including secluded rivers and coastlines, cascading waterfalls, majestic mountain peaks, natural caves, remnants of ancient Chamorro civilization, and historical World War II battlegrounds.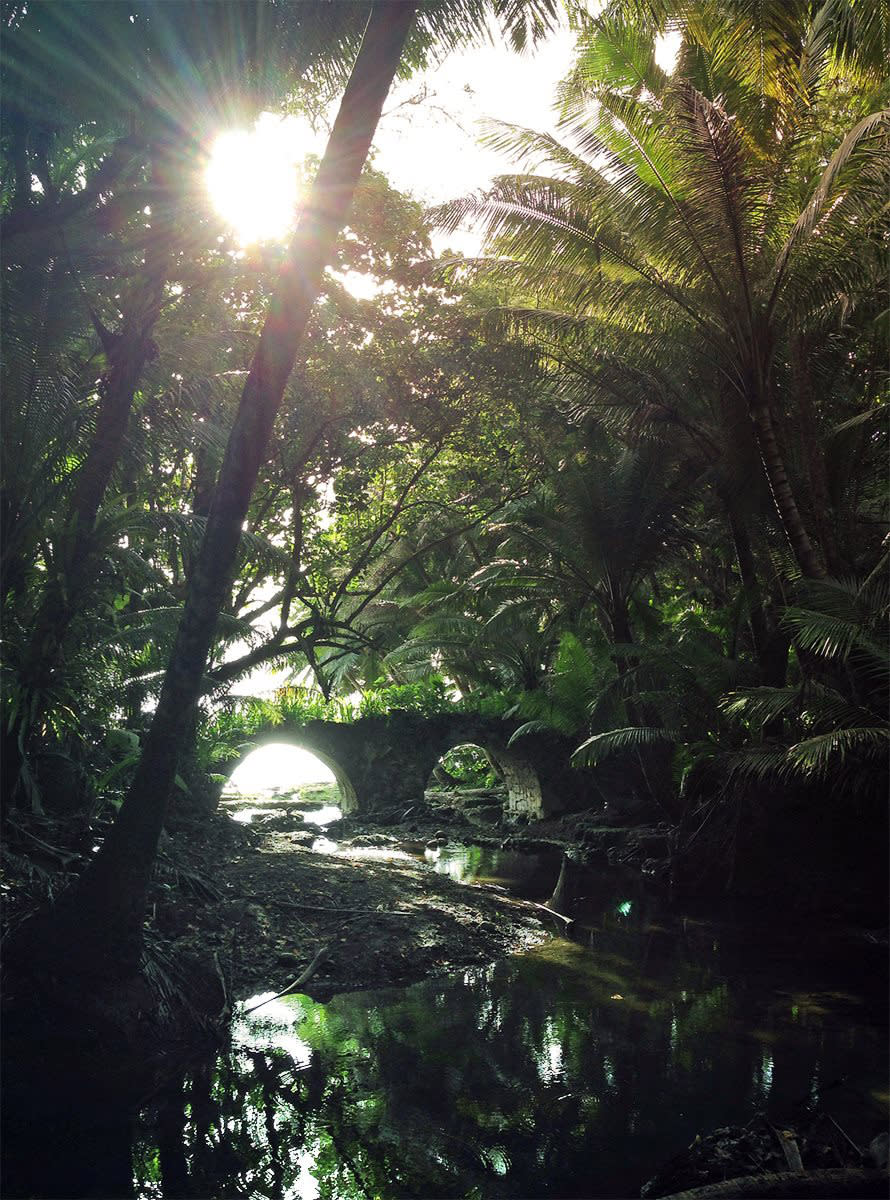 Boonie stomping trails range from easy walks across beaches to very difficult treks over rough rocky terrain. Many trails are unmarked and conditions can widely vary depending on weather, so it is recommended to go boonie stomping with an experienced guide or with a group such as the Guam Boonie Stompers.
Founded in 1970, Guam Boonie Stompers is a non-profit organization committed to helping island residents and visitors explore and preserve the natural beauty of Guam. Every Saturday, Guam Boonie Stompers leads groups to remote beaches, snorkeling sites, waterfalls, mountains, caves, and cultural and historical sites.
To participate, the group meets at 9:00 AM at the center court of Chamorro Village in Hagåtña. After a short briefing, participants take their own transportation and meet at the trailhead. Children under the age of 12 must be accompanied by a parent or guardian. There is a nominal $2.00 fee and no reservations are required.
Guam's tropical climate can sometimes mean intense rain and sweltering heat, so it is best to be very prepared when going on a boonie stomp. Bring plenty of water, wear appropriate clothing and shoes, and always inform someone of where you're going and when you expect to return.
Guam's beautiful landscape and fresh air offers many opportunities to enjoy the outdoors. When it comes to unique activities on Guam, add an element of adventure to your trip with an Only on Guam boonie stomping experience. 
For more information about Guam Boonie Stompers hikes, go to www.facebook.com/GuamBoonieStompersInc.
Guam Boonie Stompers hikes in April
April 02: Sella Bay 
Rating: Medium 
Duration: 3 hours for 2 miles 
Hike to the scenic bay to snorkel and explore an old Spanish bridge, Spanish oven, and ancient Chamorro latte stones. 
Bring: 2 quarts water, swimsuit, snorkel gear, gloves, insect repellent, sunscreen, sunglasses, lunch, and camera. 
Special Conditions: Little shade, uphill all the way out.
April 09: Lajuna 
Rating: Very Difficult 
Duration: 4 hours for 4 miles 
Descend through old fruit farms to the rugged coral coastline and outstanding views, then visit goat cave, land's end, and a swim cave. 
Bring: 4 quarts water, strong hiking boots, sunscreen, sunglasses, insect repellent, lunch and snacks, and camera. 
Special conditions: Hiking over rough sharp coral rocks, thick vegetation, and a long steep uphill climb out.
April 16: Nimitz Hill Caves 
Rating: Medium 
Duration: 4 hours for 1 mile 
Explore natural caves used by the Japanese during World War II, including the "hospital cave and the corkscrew cave. Then we hike to Fonte swim hole to wash the mud off. Bring: 2 quarts water, flashlight, gloves, insect repellent, swimsuit, lunch, and camera. Special conditions: Climbing and crawling in narrow muddy cave passages.
April 23: Umatac to Toguan
Rating: Easy
Duration: 2 hours for 1 mile
This is a cleanup hike. We enjoy this scenic coastal walk while cleaning up the coastline. At Toguan Bay, we can snorkel or scuba dive.
Bring: 2 quarts water, swim suit, snorkel gear, sun screen, sunglasses, insect repellent, lunch, and camera.
Special conditions: some rough coral rocks to walk over.
April 30: Attilong Acho to Sella Bay 
Rating: Difficult 
Duration: 3 hours for 1 mile 
Hike over the black rock hills of Atillong Acho to the head of Cetti Bay, then walk the coastline to Sella Bay. 
Bring: 3 quarts water, hiking shoes, gloves, sun screen, sunglasses, insect repellent, lunch, camera, swimsuit and snorkel gear. 
Special conditions: Steep slopes, some sword grass, all uphill on the way out.