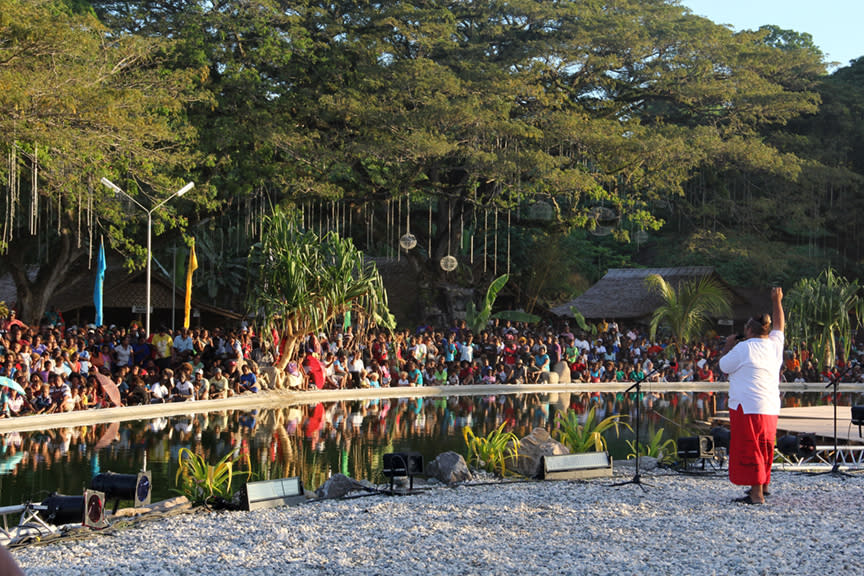 In just 23 days, 27 Pacific island nations will come together on Guam for one of the world's largest and longest running celebrations of indigenous culture: the Festival of Pacific Arts (FestPac). Since 2012, Guam has been earnestly preparing to welcome and host an expected 2,500 artists as well as thousands of festival visitors from Guam and around the world.
From May 22 to June 4, 2016, Guam will be home to thousands of master artisans and cultural practitioners from islands spanning the Pacific Ocean. FestPac 2016 is a rare opportunity to come in direct contact with the region's finest cultural performers, artists and practitioners, some of which will travel from extremely remote destinations such as Easter Island.
In 23 days, visitors can expect to see a wide variety of captivating performances in dance, theater, music, storytelling and poetry. Visitors can also explore a number of fine art, photography and fashion exhibits, sample food and delicacies from 27 island nations, and even get a tattoo from a traditional tattoo artist.
Guam's delegation includes 500 of the island's best dancers, chanters, weavers, carvers, storytellers and representatives of many other disciplines, all of whom have spent years training and preparing for the honor of representing Guam at FestPac 2016.
Guam's master blacksmiths will demonstrate the art of transforming raw materials into handmade tools such as the machete and teras pugua (betelnut scissors). Visitors can learn how to weave and cast a talaya (fishing net) from master fishermen who rely on the moon and the movement of tides to determine when to fish, just as the ancient Chamorros did. Festivalgoers can glide across the ocean in a hand-carved sakman (canoe) and learn how the ancient Chamorros navigated the open ocean by the sun, moon and stars, the water currents, and even the shape of the waves.
The two-week schedule of FestPac 2016 is brimming with intriguing exhibits, captivating performances and fascinating demonstrations. Don't miss this rare opportunity to delve deep into the culture and history of Guam and 26 other island nations. Like the Olympics, the Festival of Pacific Arts is a traveling festival that only happens every four years.
For more information about FestPac 2016, including the latest schedule of events, visit guamfestpac2016.com.