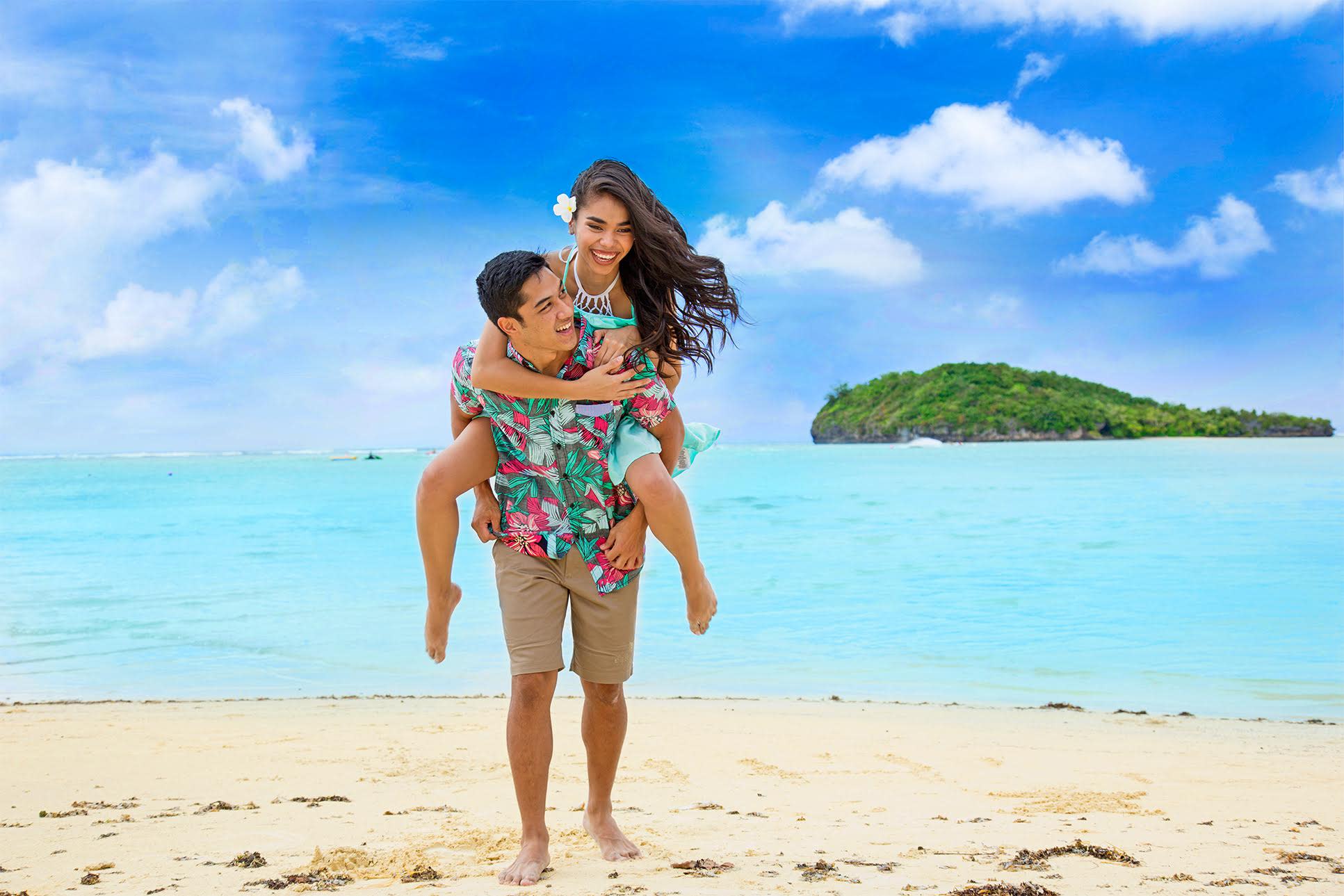 Blessed with stunning landscapes and brilliant beaches, Guam has proven to be an ultimate getaway destination for couples, with romantic options that go beyond magical sunsets, candlelit dinners and luxurious accommodations. 2017 is officially the Year of Love on Guam – make this the year you experience a holiday that will replay in your head like a favorite love song.
Guam's Landmark of Love
Puntan Dos Amantes, or Two Lovers Point, is without a doubt Guam's most famous landmark of love. Every year, hundreds of thousands of visitors are drawn to the towering cliff that is the site of one of Guam's most well known and romantic legends. It's here that the story of the famous two lovers who braided their hair together in an eternal bond reaches its climax. Large stone murals tell the ancient legend of a forbidden love that ended in tragedy. From the overlook, the endless view of the horizon and sound of waves crashing on the reef below are enough to make your heart swell and hold your beloved a little tighter. The park features tiered lookout points, a gallery and gift shop, a love bell, and a heart-lock wall lined with personal messages and symbols of love. In the middle of the park, a magnificent brass statue of two lovers locked in an embrace gleams in the sun and extends to the sky.
Two Lovers Point
Open Daily from 7AM to 7PM
http://www.puntandosamantes.com/
Adventures for Couples
Guam offers an abundant array of activities couples can enjoy and create lasting memories. Glide across the sky in a parasail for two, paddle the peaceful Talofofo River in a kayak made for two, or zip together on a tandem jet ski to the base of Two Lovers Point for a stunning alternative view of the towering cliff. Stroll hand-in-hand through the quiet streets of Hagåtña or Inarajan and learn about Chamorro culture and history by walking the villages. There are dolphin cruises, sunset cruises, dinner shows, magic shows, and much more. Of course, if you just want to stretch out on soft white sand and gaze lovingly at your sweetheart, we've got you covered.
For more information on Guam Tours and Guides:
http://www.visitguam.com/plan/tours-guides/
Celebrate Love in Paradise
Guam's sweeping ocean views and vibrant tropical sunsets are the perfect backdrop for any romantic occasion. Every year, hundreds of couples choose Guam for a paradise wedding in one of the many elegant chapels that overlook Tumon Bay. Guam endures as a wedding destination because of its natural beauty, options to suit every style and budget, and loads of activities to enjoy as newlyweds. Many couples also visit Guam to celebrate romantic milestones such as a honeymoon or anniversary. 
For more information on Guam Wedding Companies:
http://www.visitguam.com/things-to-do/weddings/