Experience two of Guam's biggest sporting events in one weekend!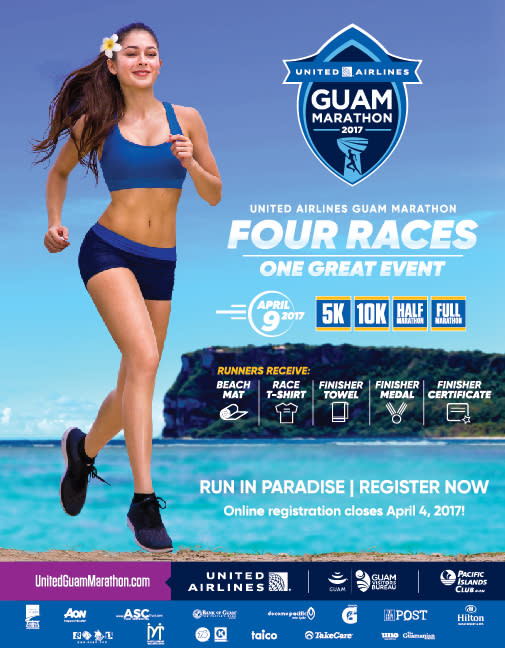 United Airlines Guam Marathon
April 9, 2017
Gov. Joseph F. Flores Memorial Park (Ypao Beach)
Now in its fifth year, the United Airlines Guam Marathon (UGM) has evolved into one of the premier running events in Micronesia and welcomes recreational runners from around the world with a festive atmosphere that epitomizes Guam's Håfa Adai spirit.
The UGM event includes 5K, 10K, Half Marathon and Marathon race distances on a mostly flat course that features miles of scenic ocean views. With Guam's warm tropical weather and close proximity to Asia, UGM is an ideal winter running event that combines fitness goals and vacation dreams into one unforgettable trip.
This year, runners and spectators will be able to enjoy an all-new BBQ Beach Party with live BBQ stations, music and cultural entertainment, beach games and activities, the traditional Tumon Bay post race dip, beachfront photo opportunities, local food and beverage concessions, and more! The BBQ Beach Party is open to all participants and the general public at Governor Joseph F. Flores Memorial Park (Ypao Beach). 
Your UGM experience doesn't end there. As part of the 2017 event, all registered runners will receive access to exclusive shopping and dining discounts to enjoy up to a week after the races. There are many things to see and experience on Guam as you relax and recover after the event.  Learn about Chamorro history and culture, enjoy the local cuisine, experience an ocean adventure, and soak up the sun on a white sand beach.
It's time to take your running hobby to a global level! Come join us in paradise for the 5th Annual United Airlines Guam Marathon on Sunday, April 9, 2017. Register now!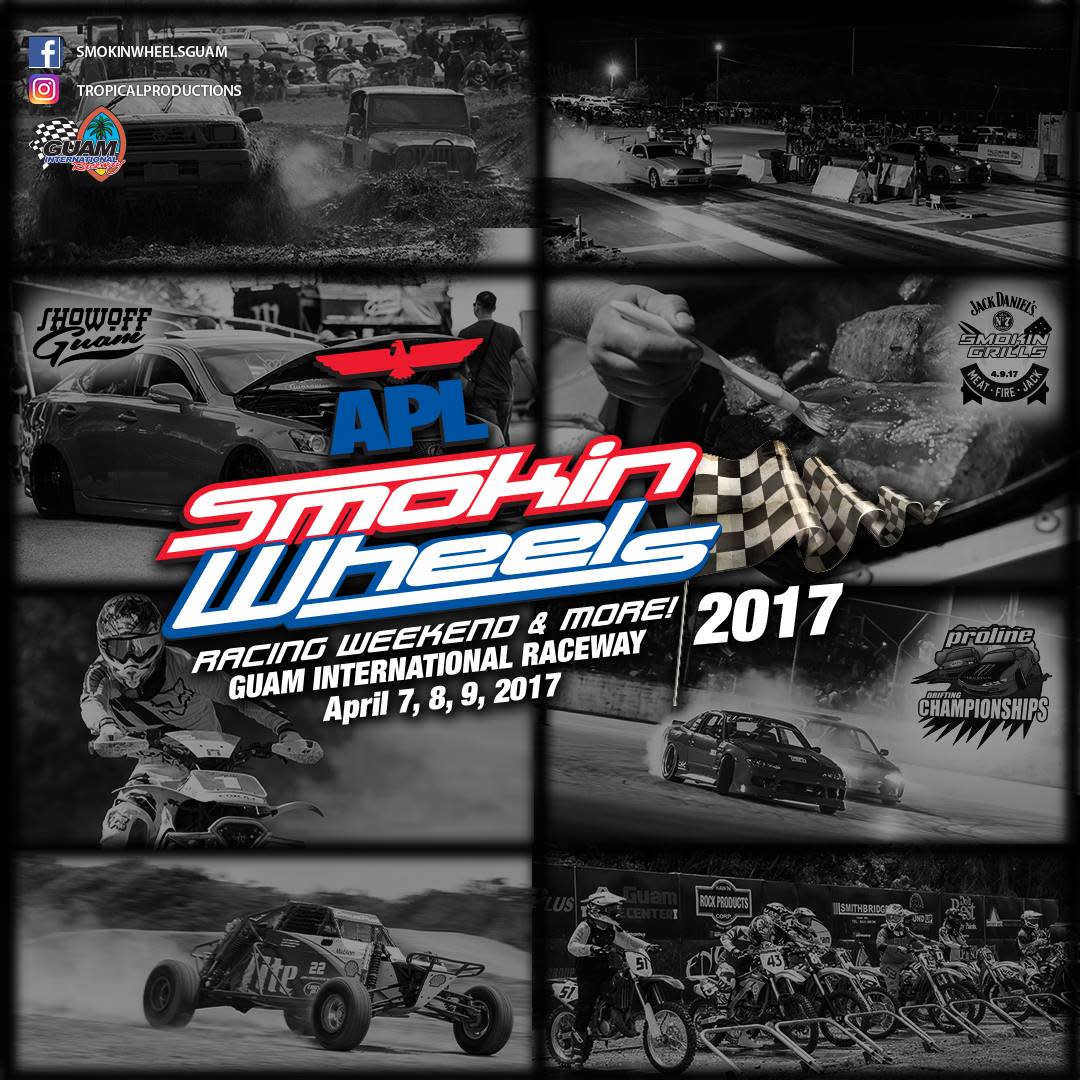 Smokin' Wheels Racing Weekend
April 7-9, 2017
Guam International Raceway
The legendary Smokin' Wheels Racing Weekend kicks off on Friday, April 7, and continues throughout the weekend with a full array of motor sports competitions. 
Since 1978, Smokin' Wheels has been Guam's premier international racing weekend, attracting thousands of off-road racing and motocross enthusiasts, as well as professional drivers from Guam and around the world. From morning to sundown, Smokin' Wheels is jam packed with enduro racing, off-road buggies and trucks, motocross racing, ATV racing, drifting, drag racing, mud bogging and more. 
Don't miss the SHOWOFF GUAM Car Show on Saturday night, April 8, when Guam's top show cars compete for category trophies and bragging rights. One hundred of Guam's finest cars will be on their very best display.
Food and drink vendors, DJs and live music, models and dancers add to the energy and excitement of Smokin' Wheels. With non-stop action, awesome food and racing, you won't want to miss this once a year motorsports festival!