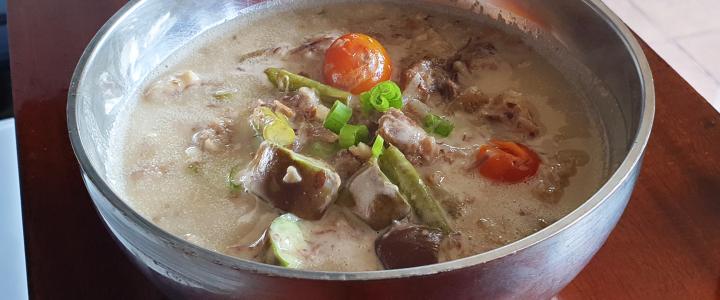 People say it's called tinaktak because of the "taktak" sound of the knife on your cutting board as you chop the meat super thin! If you've ever wanted to know how to make it, here's a recipe along with a side dish of gollai åppan lemmai from local chef and restaurant owner Lenny Fejeran. 
Tinaktak Antigu
Ingredients:
1/2 onion
1 clove chopped Garlic
Teaspoon of oil or oxtail fat
1/2 pound of beef shank
1/2 pound of oxtail
2 cups coconut milk
2 ounces pickled bittermelon
2 local cherry tomatoes
1 small eggplant
1 teaspoon salt and 1/2 teaspoon black pepper
1/4 cup long beans
1/2 squeeze of lemon
Directions:
Cook meat for 3 hours until tender and falling off the bone. Chop the meat thinly
Sauté oil or oxtail fat, onion, and garlic on high heat
Add meat
Add coconut milk
Add pickled bitter melon (See below for recipe)
Add local cherry tomatoes
Add eggplant
Simmer on medium heat
Add salt and black pepper
Simmer down for 30 minutes on medium low heat
Add long beans
Cook for 5 minutes then turn heat off
Add lemon
How to make salted and/or pickled bittermelon:
The trick is to salt it twice!
Salt it for 30 minutes
Strain and rinse
Salt it again for another hour
You can pickle it but you can add it into the tinaktak after you salt it as well!
Gollai Åppan Lemmai
Ingredients:
1 medium sized lemmai
2 quarts coconut milk
Directions:
Skin lemmai, cut the middle part out, and chop 
Add coconut milk on medium high heat
When it comes to a boil, put it down to medium low
Simmer down for 15 minutes or until soft and milk is reduced
In this step-by-step video, Fejeran shows us how to make Tinatak Antigu and Gollai Åppan Lemmai at his restaurant Kådu!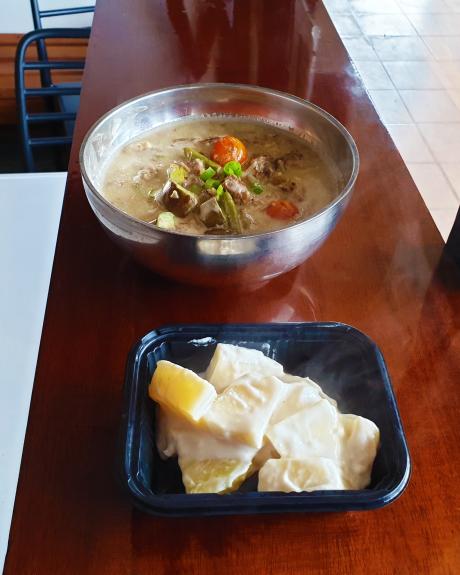 Kådu
Open Monday to Friday from 10:30am to 8pm and Saturdays 11am to 8pm
Facebook and Instagram: kaduguam