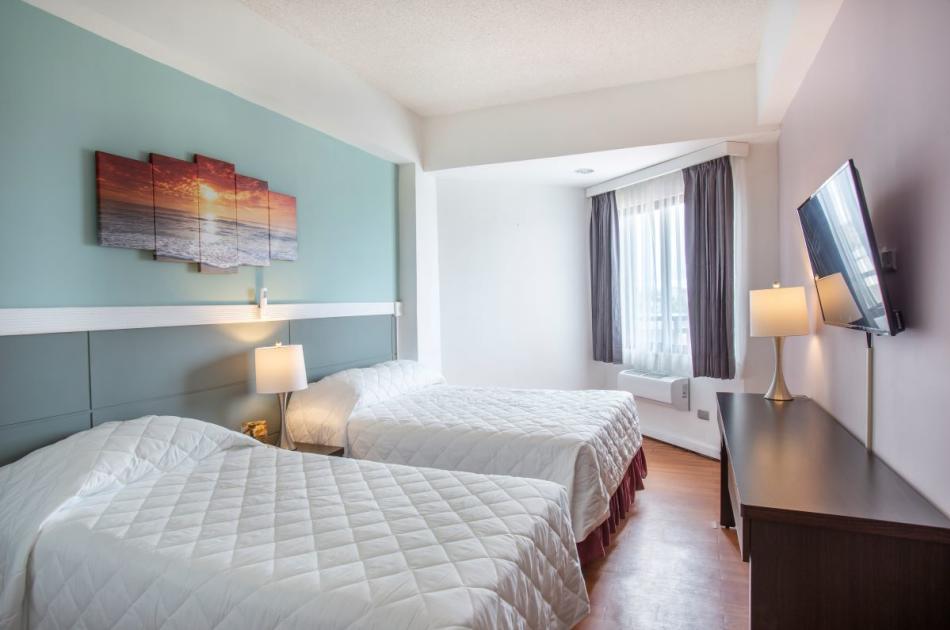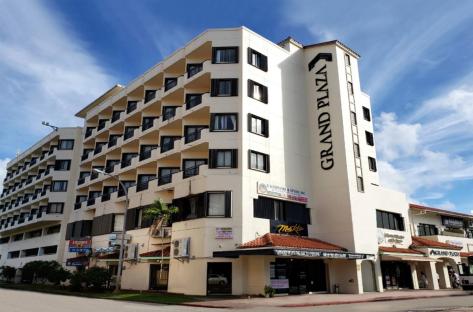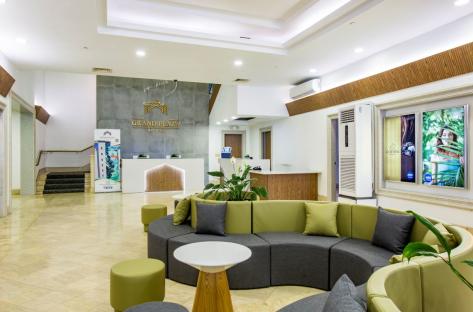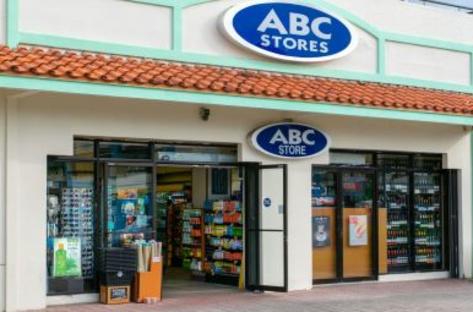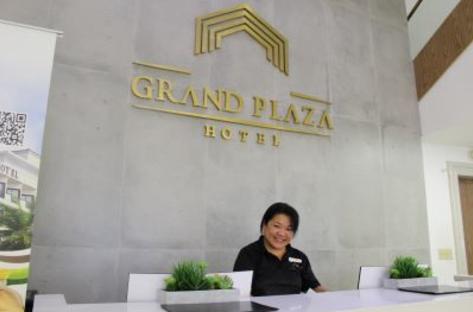 about

Grand Plaza Hotel

Centrally located in the heart of Tumon, Grand Plaza Hotel sets you steps away from tanning on a bed of the soft white sands stretching across Guam's famed Tumon Bay. Then plunge into the turquoise blue waters for an Instagramable experience swimming among the vibrant aquatic life blooming in the marine preserve.

Grand Plaza Hotel is idyllically centered in the heart of the Tumon boulevard. Surrounded by an array of local, ethnic, and chain restaurants, duty-free shopping at Tumon Sands Plaza, T-Galleria, and Pleasure Island, to trending nightlife to provide you with a new experience at any time.

When it is time to rest and relax, find comfort in one of our 116 guest rooms. Perfect for solo travel to group or family getaways with our Suites or family, connecting and triple rooms. All rooms include Free Wi-Fi, a microwave (a bonus feature not found in many Guam hotels), a hot pot, individual room air conditioning units, and more.

Convenient hotel facilities include a deck-top swimming pool, 24hour laundry room, ABC Stores, retail and souvenir shops, Meskla Chamorro Fusion Bistro (voted Guam's #1 & Best Chamorro restaurant 5 years in a row), Optional Tour desk, karaoke bar, car rental, fitness center, and 24 hour Front Desk support.

Grand Plaza Hotel has been Certified as a Safe Travel destination with the World Travel & Tourism Council, the Guam Visitors Bureau, and the Guam Public Health. We take every precaution possible to provide a clean and safe space. Electrostatic sprayers provide 360-degree coverage of hospital-grade disinfection, safety shields, temperature scanning, sanitizers, 6' distancing, and more are put into place to give you peace of mind.

Your #Wanderlust experience is here. Explore more of Guam when you stay in the heart of Tumon at the Grand Plaza Hotel, providing you with a great vibe and great value.
General

Number of Guest Rooms:

116

Number of Connecting Guest Rooms:

8

Suites Available:

100% Smoke Free:

1-Bedroom Units:

Long Term Accommodations:

Military Discount:

Non-smoking Rooms:

Suites:

Travel Agency Commission:

In-Room

Air Conditioning:

Cable:

Color TV:

Daily Newspaper:

Free Newspapers:

Hair Dryer:

High Speed Wireless Internet:

Iron & Ironing Board:

Kettle:

Microwave:

Refrigerator:

Room Safe:

Smoke-Free Rooms:

Telephones:

Television:

Dining

100% Smoke Free:

Alcohol Served:

Cart Blanche:

Dinner:

Entertainment:

Family Friendly:

Group Dining:

Groups:

Kids Menu:

Live Music:

Lunch:

Non Smoking:

Outdoor Seating:

Reservations Accepted:

Take Out:

Group Dining

General

Free Strollers and Wheelchairs:

Full-Service Restaurants:

Parking:

Swimming

Number of Swimming Pools:

1

Other Venues

Number of Martial Arts Studios:

1

Summer Sports

Clothing:

Amenities

Alcohol Served:

Box Lunch Available:

Children's Menu:

Food Service Available:

Food Service Packages Available:

Gift Shop/Shopping on Site:

Handicap Accessible:

Luggage Storage:

Restaurant Facilities on premises: