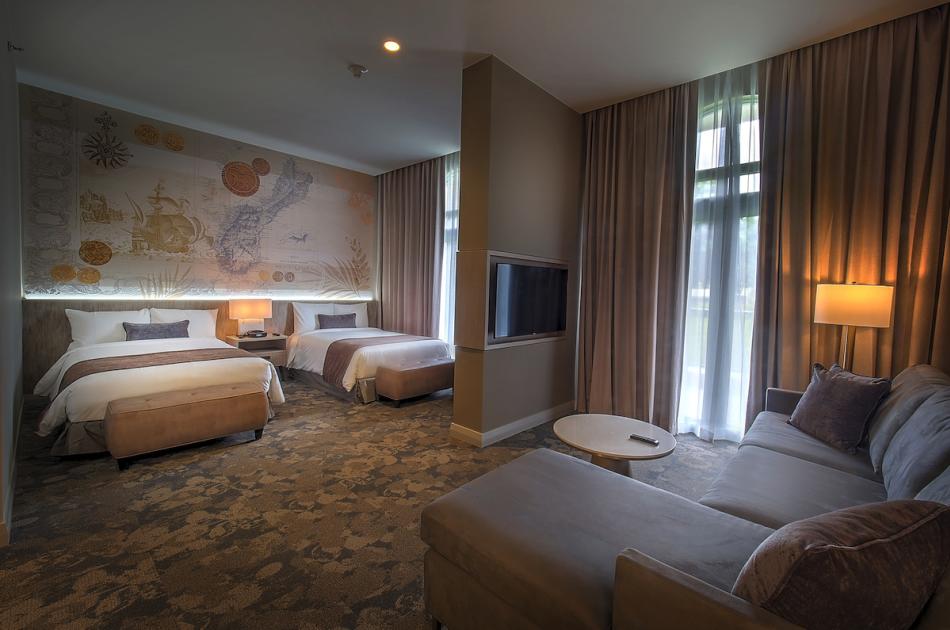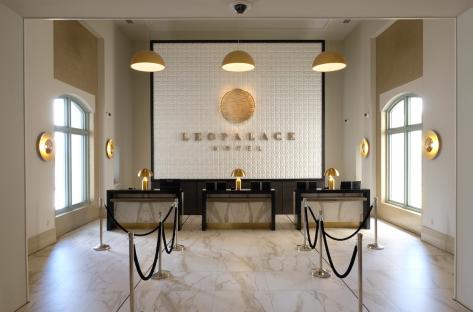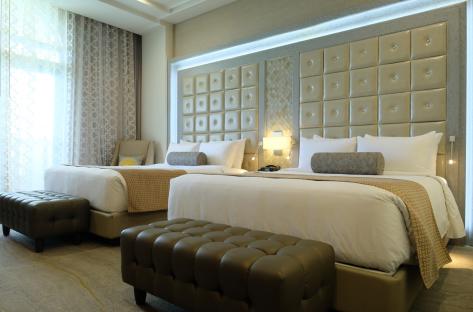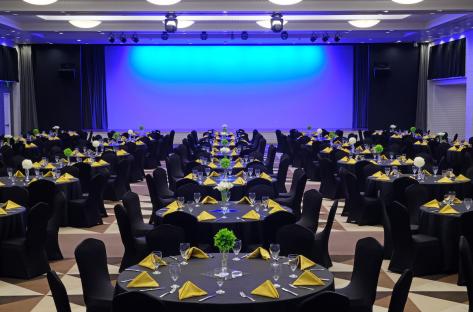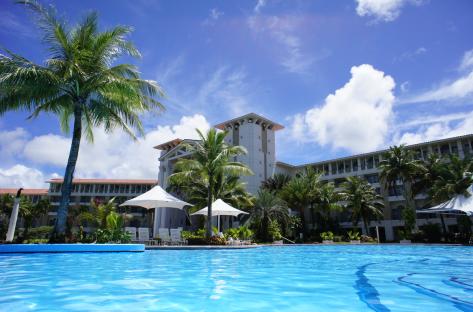 about

Leo Palace Resort Guam

LeoPalace resort is a paradise on the invigorating hills of Guam.

The resort offers a unique peace surrounding you with first-class facilities and breathtaking landscapes that provide each of our guests the ultimate resort experience. With a selection of room types, we offer conducive comfort to any traveler whether it's for the family on vacation, executives on a business visit, or lovebirds on a romantic getaway.

Come to our home, be part of our story.
General

Number of Guest Rooms:

201

Number of ADA Accessible Guest Rooms:

10

Suites Available:

Efficiency:

Long Term Accommodations:

Non-smoking Rooms:

Pet Deposit/Fee:

Pet Friendly:

Resort:

Suites:

Travel Agency Commission:

In-Room

Air Conditioning:

Cable:

Coffee and/or Tea maker:

Color TV:

Data Ports:

Express Check-in/out:

Hair Dryer:

High Speed Wireless Internet:

Iron & Ironing Board:

Iron/Ironing Board:

Kettle:

Lakeview:

Movies:

Radio Alarm Clock:

Refrigerator:

Roll-in Shower:

Room Safe:

Rooms with Private Bath:

Rooms with Shared Bath:

Safe:

Smoke-Free Rooms:

Telephones:

Television:

On-Site

A/V on Site:

Airport Shuttle:

Bakery:

Barbeque:

Bicycles Available:

Bowling Alley:

Bus Parking:

Business Center:

Business Services:

Childrens Programs:

Coffee Shop:

Concierge Desk:

Conference Center on SIte:

Entertainment:

Exercise/Fitness Facilities:

Free Parking:

Full Bar/Lounge:

Gas Grills:

Gift Shop:

Golf on Site:

Golf Privileges:

Golf Pro:

Guided Tours:

Handicapped Facilities:

Happy Hour:

Hot Tub:

Hotel Bar:

Internet - Free:

Internet - Wireless:

Kiddie Pool:

Lake:

Laundry Facilities:

Laundry Service/Drycleaning:

Lounge/Bar/Restaurant:

Meeting Facilities on Site:

Night Club:

Outdoor Dining:

Outdoor Event Venues:

Outdoor Pool:

Pet Friendly:

Picnic Area:

Pool:

Recreation Center:

Rental Cars on Site:

Restaurant:

Restaurant on Site:

Restrooms:

Shuttle Service - Airport:

Shuttle Service Port (Free):

Snack Bar:

Spa on Site:

Sunday Brunch:

Swimming Pool:

Unwind Hour:

Valet Parking:

Washer/Dryer:

Waterslide:

Wireless Internet:

Dining

100% Smoke Free:

Alcohol Served:

Breakfast:

Dinner:

Family Friendly:

Group Dining:

Groups:

Kids Menu:

Lunch:

Non Smoking:

Private Rooms Available:

Reservations Accepted:

Sunday Brunch:

Take Out:

WiFi Access:

Pricing

Average Price Breakfast:

22

Average Price Dinner:

40

Average price Lunch:

20

Dining Cost:

General

Boutique/Shop:

Free Strollers and Wheelchairs:

Full-Service Restaurants:

Parking:

Playgroud:

Swimming

Number of Swimming Pools:

1

Other Venues

Number of Bowling lanes:

16

Venue Info

AV Equipment Available:

Catering Available:

Full Bar:

Indoor Venue:

Outdoor Venue:

Golf Course Details

Chipping Green:

Course Type:

Private

Driving Range:

Golf Carts:

Pro Shop:

Putting Green:

Rental Clubs:

Restaurant/Lounge:

Storage Lockers:

Course 1

Dress Code:

Number of Holes:

18

Course 2

Dress Code:

Number of Holes:

18

Summer Sports

Clothing:

Golf Clubs:

Amenities

Alcohol Served:

Children's Menu:

Gift Shop/Shopping on Site:

Handicap Accessible:

Lounge:

Luggage Storage:

Restaurant Facilities on premises:

Restrooms Onsite:

Specials/Coupons for Groups:

Welcome Reception:

Exhibits Space

Description

The LeoPalace Guam Resort offers two areas for banquets, round table, theater, seminar, cocktail (standing) styles. The hotel building features the Zefiro, Brizo, Kanta, Amika and Sana rooms. The Club House features the Nicklaus, VIP Room, Gold Club, Galleria, Conference and Arco rooms. See the downloadable PDF (above) for details!

Floorplan File

Floorplan File

Largest Room

9471

Total Sq. Ft.

24531

Reception Capacity

800

Space Notes

The numbers below reflect measurements in METERS.

Theatre Capacity

700

Asian Fusion Restaurant

true

Audio/Video Capabilities

true

Business Center

true

Cafe

true

Chinese Restaurant

true

Coffee Shop

true

Concierge Services

true

Convenience Shop

true

Group Buffet

true

Health Club / Gym

true

Internet

true

Italian Restaurant

true

Japanese Restaurant

true

Laundry

true

Lobby Lounge

true

Luxury Shopping

true

Outdoor Pool

true

Parking

true

Poolside Bar

true

Snack Bar

true

Spa

true

Teppanyaki Restaurant

true

Thai Restaurant

true

Waterpark

true

Wedding Chapel

true

Wheelchair Accessible

true

Banquet Capacity

450

Number of Rooms

7

Large floor Plan PDF

Large floor Plan PDF

Classroom Capacity

540

Sleeping Rooms

201

Zefiro Ballroom

Total Sq. Ft.:

9471

Height:

16.5

Theater Capacity:

700

Classroom Capacity:

540

Banquet Capacity:

450

Reception Capacity:

800

Kanta Banquet Room

Total Sq. Ft.:

517

Height:

9.85

Classroom Capacity:

80

Banquet Capacity:

100

Reception Capacity:

80

Brizo Party Room

Total Sq. Ft.:

1787

Height:

9.85

Classroom Capacity:

64

Banquet Capacity:

64

Club House Nichlaus Rooms

Total Sq. Ft.:

2164

Height:

9.85

Classroom Capacity:

50

Banquet Capacity:

100

Club House VIP Room

Total Sq. Ft.:

980

Height:

9.85

Classroom Capacity:

25

Banquet Capacity:

50