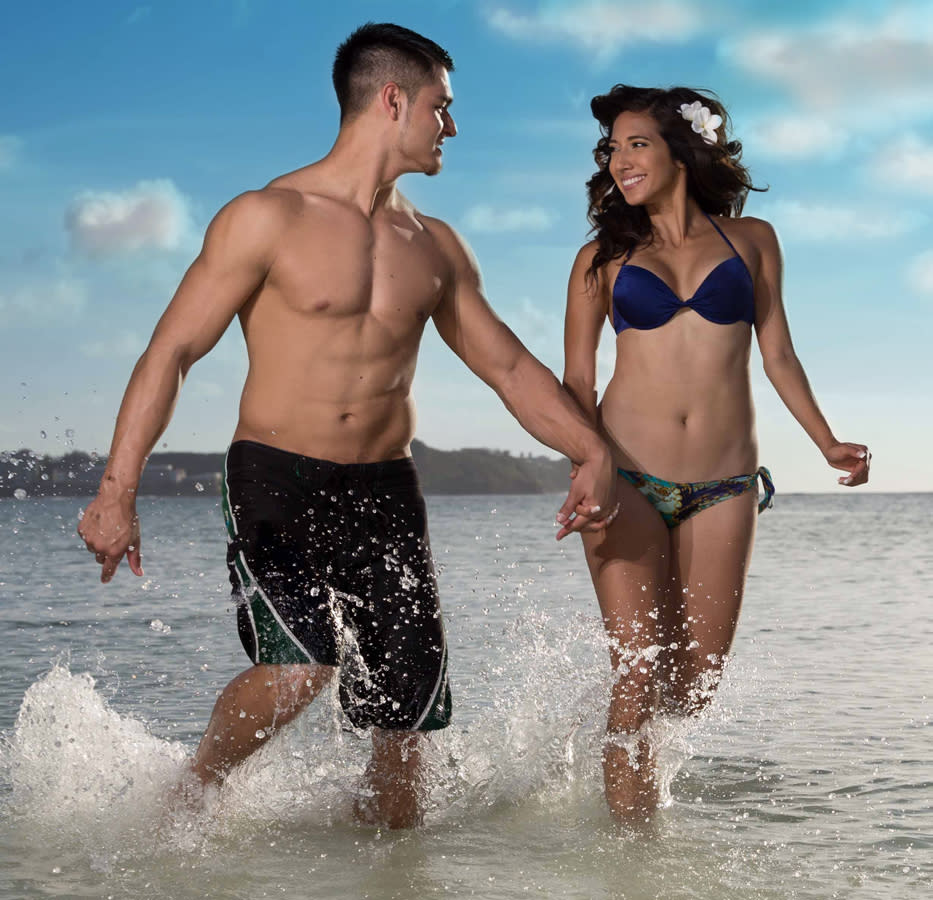 Known for our warm, hospitable people, Guam is a destination like no other. Only on Guam can you find star-sand beaches, crystal clear waters and stunning sunsets. Do you need a reason to visit Guam? We think not. But if you are still not convinced, here are just 10 of the many reasons why millions of tourists have made Guam their top travel choice.
The Food
Guam is an ethnic melting pot and nowhere is this more evident than in the vast variety of restaurants and cuisine available around the island. From American franchise, European fine dining and Asian fusion, to home-style eateries that serve up local flavors, there is surely a restaurant to satisfy even the most particular palate. A few things you must try while in Guam: Chamorro barbecue, red rice and chicken kelaguen. Our chicken kelaguen is so tasty, Guy Fieri calls it "the bomb." Boom!
The Celebrations
People from Guam love to get together–it's like a national pastime. There's something happening practically every week that's centered on food and entertainment. Village fiestas are monthly celebrations with an open invitation for everyone to attend. Numerous festivals like the Agat Mango Festival and Malesso' Crab Festival happen throughout the year and signature events like the annual Guam Micronesia Island Fair and Guam Live International Music Festival draw thousands of attendees. Even if your visit to Guam is just a few days, chances are there's a celebration or event you can check out.
The Beaches
One of the best things about Guam is that anywhere you are on the island, there is a gorgeous white sand beach less than 15 minutes away. Guam's beaches have been voted by visitors to be among the best in the world. The water is warm all year round, the clarity is astounding, and you will marvel at the shades of turquoise and blue. The best part is you'll have lots of room to stretch out and relax, unlike other places where beaches are packed with crowds.
The Shopping
Whether you're looking to update your wardrobe with the latest fashion, pick up a cool toy or gadget, or bring home a special handmade souvenir, there are hundreds of shops in Guam where you can find all that and more. The island has several large shopping malls where renowned American and international brands can be found, and luxury boutiques and fashion houses line the streets in Tumon. For even more shopping, check out the weekly night markets and weekend flea market. The best part about shopping in Guam is the lack of sales tax.
The Hospitality
Guam is home to not only the native Chamorros but also people from Micronesia, Asia and other countries, making the island a true melting pot of friendly, hospitable people who love to laugh and swap stories. Don't be surprised if you're walking down the beach and someone offers you a drink or a plate of barbecue and strikes up a conversation. That's the Hafa Adai sprit.
The Diving
Guam offers some of the most diverse diving in the world, from simple reef diving to shipwrecks and more. Guam's waters are teeming with marine life, boasting over 200 species of coral at more than 60 dive sites. Not a certified diver? Sign up for an intro dive experience, walk along the ocean floor with helmet diving or just swim around with a mask and snorkel. However way you choose to do it, don't go home without exploring the island's crystal clear waters.
The History
From the ancient Chamorro period to Spanish colonization, from Japanese WWII occupation to American rule, Guam has a 4,000-year-old history that is intriguing and fascinating. There are historical sites of interest all around the island and each of them unravel the story of Guam's struggles, resilience and victories. 
The Romance
There's a reason thousands of couples fly to Guam every year to get married and it's because Guam's stunning natural beauty and unforgettable sunsets offer a perfect backdrop for weddings and honeymoons. Voted "Most Romantic Tour" for two consecutive years at the Hong Kong International Travel Expo, Guam is a tropical paradise with a natural air of romance that is perfect for a couple's retreat.
The Adventure
Guam might be a small island but it is packed with adventure. Pick your preferred flavor of adrenaline and we've got it: scuba diving, jet skiing, paddle boarding, windsurfing, off roading, sky diving, parasailing, sport fishing, dolphin watching, zip line, go karts, golf, hiking, sling shot – the checklist of fun activities to experience in Guam goes on and on.
The Relaxation
Sometimes you want to do absolutely nothing. Luckily, Guam's laid-back island lifestyle can teach you a thing or two about relaxation. Whether you want to lounge poolside, take a nap under a shady palm tree, or indulge in a luxurious spa treatment, Guam offers no shortage of ways to achieve serenity.