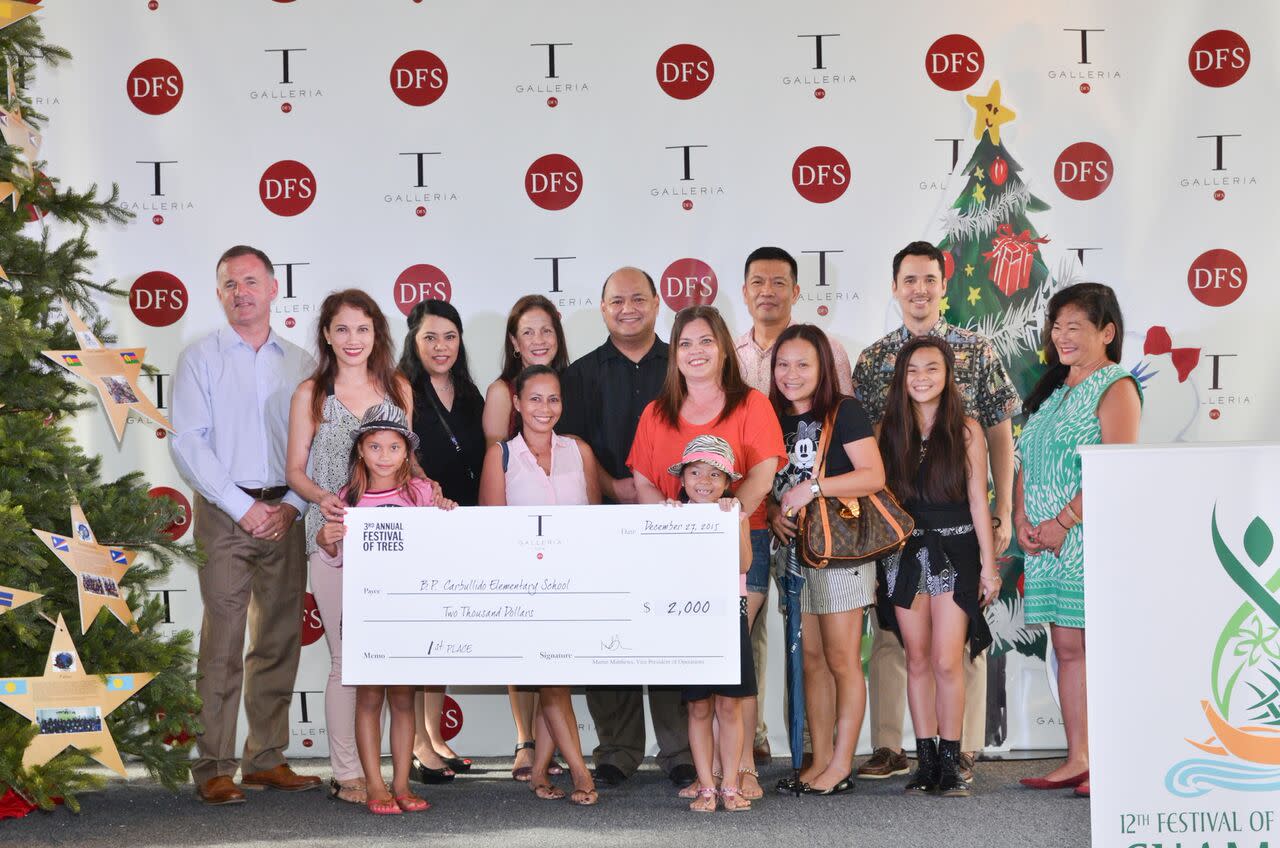 (Monday, December 28, 2015) – At the end of a fierce yet festive competition, T Galleria Guam by DFS awarded $10,000 in prizes to winners of the 3rd Annual T Galleria Guam by DFS Festival of Trees competition. In preparation for this year's FestPac theme, 27 elementary schools took home rich knowledge of the 27 visiting nations to the 12th Festival of Pacific Arts (FestPac 2016) and cash prizes for their schools. The top six schools earned $500 to $2,000, and all other participating schools received $200.
"We gave away $10,000 in prizes today," said Martin Matthews, Vice President of Operations for DFS Mid-Pacific. "We are especially happy with the Third Annual Festival of Trees that has engaged 27 elementary schools to learn about the culture and communities in the various island nations. Almost 1,500 ornaments were made by 1,300 school children."
For the second year in a row, B. P. Carbullido Elementary School in Barrigada won the grand prize of $2,000 for its Cook Islands tree. The L. B. J. Elementary and Tamuning Elementary team came in second place for its Tonga tree, and Ordot-Chalan Pago Elementary took third place for its Vanuatu tree. Congratulations to all the winners of the Third Annual Festival of Trees:
Place                  School                                                      Visiting Nation
First Place         B.P. Carbullido Elementary School            Cook Islkands
Second Place     L.B.J. Elementary School and                  Tonga
                           Tamuning Elementary School
Third Place         Ordot-Chalan Pago Elementary School    Vanatu
Fourth Place       Inarajan Elementary School                      Palau
Fifth Place (tie)    Price Elementary School                           Easter Island
Fifth Place (tie)     Wettengel Elementary School                   French Polynesia
"I'm grateful to DFS for allowing the students of Guam to showcase what they've learned and to compete for wonderful prizes," said Jon Fernandez, Guam Department of Education Superintendent of Public Schools as he took the microphone before the winners were announced. "This is a unique year with Guam hosting FestPac 2016. We've been introducing our students to the cultures of the island nations in the Pacific, and this was an opportunity to incorporate what they've learned into the design of the trees. This
competition gave them the opportunity to learn more about the region and more about themselves as residents and citizens of the Pacific."
About the Festival
The FestPac Organizing Committee applauds the students for the quality of work that went into the research, design and presentation of each tree. The twenty-seven trees in the festival represented the 27 visiting nations at FestPac 2016, which will be held on Guam from May 22 to June 4. Elementary school students from 27 competing schools from around the island selected their visiting nations, conducted research on the countries' arts and culture, and specially designed and hand crafted each set of ornaments. The 28th tree, the Guam tree, was designed by the DFS children.
"The 2016 Festival of the Pacific Arts is a once-in-a-generation event that will be an exceptional learning opportunity for all of us." said Nathan Denight, FestPac Organizing Committee Chairperson and General Manager of Guam Visitors Bureau. "I want to recognize Superintendent Jon Fernandez and the entire GDOE team for making this a successful event that our residents and visitors thoroughly enjoyed. Most of all, I want to thank the student for their hard work and creativity. They did a fantastic job."
The FestPac Committee would like to recognize FestPac Latte Sponsor T Galleria Guam by DFS, the world's leading retail destination for international travelers and local residents, for utilizing one of its signature events to educate and excite residents about Guam's important role in the festival and for introducing the festival to our visitors.