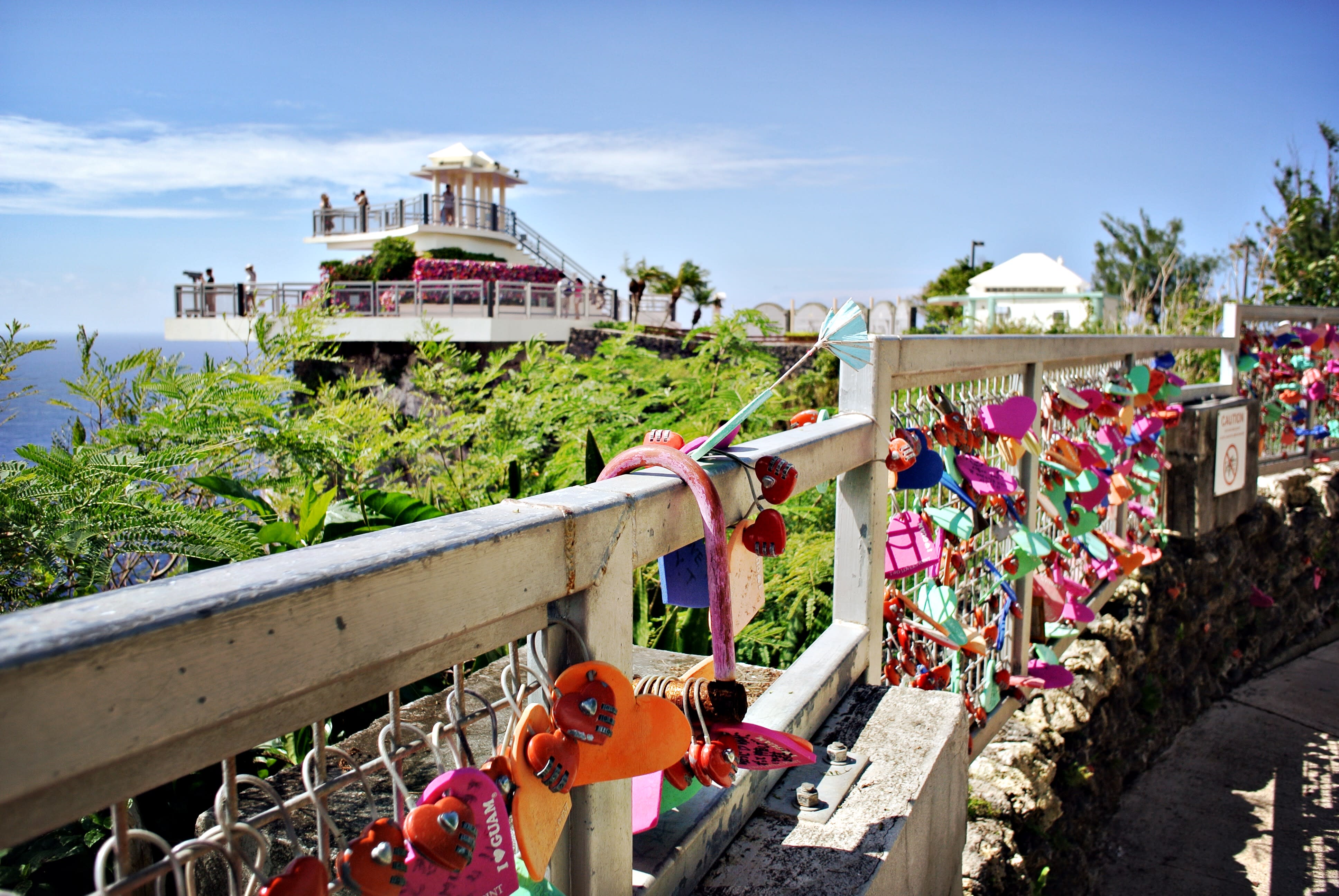 Two Lovers Point
*Free gift with purchase, see Shop Guam app for details
Puntan Dos Amantes, or Two Lovers Point, is without a doubt one of Guam's most iconic - and romantic - attractions. Every year, hundreds of thousands of visitors are drawn to the towering cliff that is the site of one of Guam's most well known and romantic legends.
The legend of Two Lovers Point is a timeless, bittersweet tale of eternal love. Long ago, during the Spanish colonial era, the oldest daughter of a great maga'låhi (Chamorro chief) ran away from home in defiance of her father's demand that she marry a powerful Spanish captain. On a secluded beach that evening, she met and fell in love with a young man from a Chamorro family. When the Chamorro chief found out about his daughter and the young man, he, along with the Spanish captain and several soldiers, pursued the couple to edge of the cliff that towers above Tumon Bay. There, the two lovers tied their long hair together into a single knot and leapt over the long, steep cliff into the roaring waters below, never to be seen again. From that day on, the cliff became forever known as Two Lovers Point (Puntan Dos Amantes).
Today, the Two Lovers Point site features two tiered lookout points that offer a sweeping view of breathtaking Tumon Bay, high above crashing ocean waves 400 feet below. In the middle of the park, a magnificent brass statue of two lovers locked in an embrace gleams in the sun and extends to the sky. Couples can purchase a lovelock, attach it to the railing and throw the key into the ocean to symbolize their own eternal love.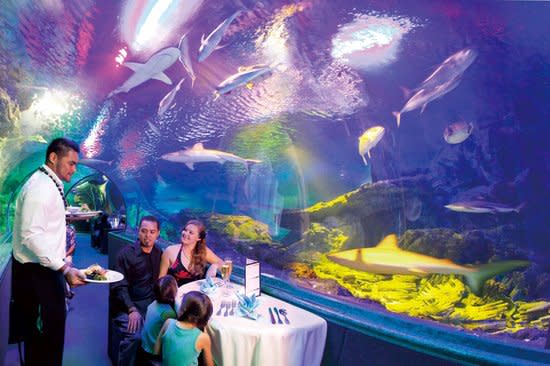 Underwater World
*Free Champagne when you dine underwater, see Shop Guam app for details
For an enchanting evening under the sea, enjoy a romantic dinner in one of the longest aquarium tunnels in the world, peacefully surrounded by more than 2,000 animals representing more than 80 different species – many of which are native to Guam and the Mariana Islands.
For Valentine's Day, Underwater World will serve an elegant four-course dinner in the Tunnel of Love paired with your choice of Clos du Bois or Heineken. Guests will receive a single rose, a special couples gift and a souvenir photo of the evening presented in a love frame. Inside the aquarium tank, Underwater World divers will swim up to your table and deliver a personal love note to your Valentine. Call 649-9191 for reservations
_
Please see details on these and dozens of other deals and offers on the Shop Guam Festival app. The Shop Guam Festival app is your guide to fabulous discounts on fashion, activities, dining and more. Browse all of the offers on the free Shop Guam app, available in six languages for iPhone and Android. Search "Shop Guam" in the iPhone App Store or Google Play Store and download the Shop Guam app. Hurry, the Shop Guam Festival ends February 15, 2016!