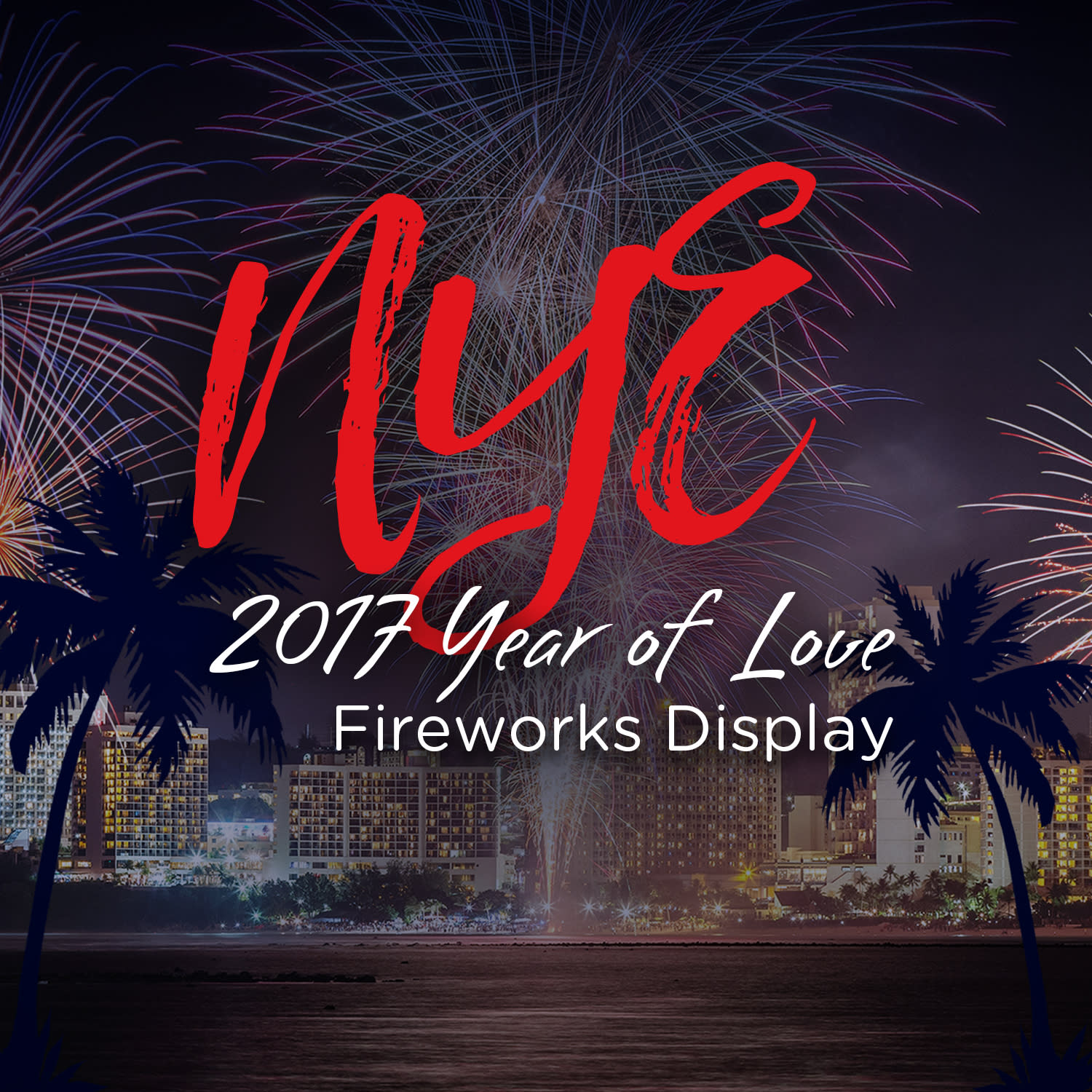 There is no better place to welcome the New Year with friends and family than at the "2017 Year of Love" Festival this Saturday night at Ypao Beach Park in Tumon!
Starting at 6:00pm on New Year's Eve, everyone is invited to enjoy live entertainment, food, drinks, and family-friendly activities at the Tumon Night Market before taking in a spectacular fireworks display that is set to light up the bay at the stroke of midnight. The fireworks show will be synchronized to a special musical presentation as Guam welcomes 2017 as the Year of Love.
Among the highlighted entertainment slated to perform at the market throughout the evening is ukulele virtuoso Kris Fuchigami, who will perform at 8 p.m. and again at 11 p.m. Fuchigami is a world-renowned musical artist from Hawaii and was nominated for the prestigious Na Hoku Hano Hano Award for the Instrumental Composition of the Year category with his original composition of "Moemoea."
The 2017 Year of Love Festival is also a great time to visit the "Legends of Guam" display at the Christmas Love From Guam light park, which is located across the street from the Tumon Night Market. At the holiday light park, visitors can learn how Two Lovers Point got its legendary name, how Guam and the universe were created, and how a local island girl transformed into a beautiful mermaid. The light park also features other holiday displays that are fun for picture taking.
And while you're snapping photos, be sure to enter the 2017 Year of Love Fireworks Photo Contest by tagging your Guam fireworks photos with #withlovefromguam on social media. You can also upload your photos to love.visitguam.com for a chance to win a one-night stay courtesy of Hilton Guam Resort & Spa!
Join us on the beach as Guam welcomes 2017: the Year of Love! Entrance to the 2017 Year of Love Festival, including the Tumon Night Market and Christmas Love From Guam Light Park, is free, and Ypao Beach Park is easily accessible by bus, trolley, or by walking from your hotel in Tumon. The festival and fun begins at 6:00pm on Saturday, December 31st.