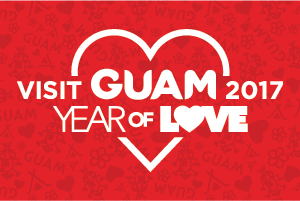 It's officially the Year of Love on Guam! With breathtaking panoramic vistas, soft white-sand beaches and spectacular sunsets, Guam is the perfect destination to cultivate and celebrate love of all kinds. Here are just a few reasons why Guam is for lovers:
Love History and Culture
Guam has 131 sites around the island that are listed on the National Register of Historic Places. These historical landmarks include churches, forts, battlegrounds and archaeological sites that weave a fascinating tale of the island's struggles, resilience and victories over thousands of years. From the Guam Museum to living museums such as Gef Pa'go Chamorro Cultural Village and Sagan Kotturan Chamoru, visitors can see and experience what life was like in the early days of the island. 
Love the Environment
Guam's stunning landscapes and epic sunsets are legendary. From north to south, the island's mysterious caves, cascading waterfalls, pristine shorelines, and tranquil southern villages offer many opportunities to connect with the great outdoors. Guided hikes called "boonie stomps" take place every weekend and lead to some of the island's hidden gems. Even the golfing experience on Guam is one-of-a-kind with greens winding through hills against a backdrop of tropical foliage and ocean waves crashing against the reef.
Love Adventure
The clear warm waters that surround Guam offer world-class diving, snorkeling, and endless fun on a jet ski, paddleboard, wake board, banana boat and more. Other exhilarating experiences include dolphin watching, river kayaking, and soaring high above the trees on a zipline. For the ultimate rush, visitors can experience a 60-second skydive freefall from 14,000 feet and enjoy an unforgettable bird's-eye view of the island.
Love Shopping
Many of the world's most luxurious and famous designers have boutiques located in Guam. The island has three shopping malls, many smaller shops and even night markets where local arts and crafts can be found. Guam's annual Shop Guam Festival takes place every year from November to February and shoppers can take advantage of the festival's discounts and special offers by downloading the free Shop Guam app. What makes this wide selection of shopping even better is all retail purchases on Guam are tax-free.
Love Activities
With loads of other activities like waterparks, tunnel aquariums, dinner and magic shows, festivals, fiestas and night markets, there is no shortage of ways for families and groups to create memories that will be talked about for years. For the health and fitness-minded, annual sporting events such as the Guam International Marathon and the Ko'ko' Road Race attract thousands of international travelers every year. Of course, when it's time to do absolutely nothing, visitors can unwind in a luxurious spa or snooze peacefully on the beach in the shade of a palm tree.
Love Food and Drink
Guam is especially known for its savory cuisine that combines Asian, Spanish and Pacific Island influences into a unique island fusion. Chamorro barbecue, red rice and chicken kelaguen are world famous and are just a few of the tasty local dishes every visitor must try. Authentic Chamorro food can be found at village fiestas, the Chamorro Village in Hagåtña, and at Chamorro cuisine restaurants such as Terry's Local Comfort Food in Tumon. In addition to the local flavors, Guam also has hundreds of restaurants of nearly every cuisine that is sure to please even the most particular palate.
Love Romance
When it comes to romance, Guam has received numerous international awards for being the Most Romantic Destination. Guam's tropical air and natural beauty is a perfect backdrop for romance and every year hundreds of couples travel to Guam to get married or to celebrate a honeymoon, engagement or anniversary. Two Lovers Point is the iconic site of a legendary tale of ill-fated love, where visiting couples often leave a souvenir padlock to symbolize their own eternal love.
Visit Guam 2017: The Year of Love
Whether it's romantic love, love for family and friends, love for food, adventure, or the environment, 2017 is the year to visit Guam and celebrate love by all definitions. Get caught up in the current of love by watching the official Visit Guam 2017 Year of Love music video featuring the hit single "Current" by The John Dank Show (available on iTunes) and follow @VisitGuam on Facebook, Instagram and Twitter to keep up with ongoing contests and prize giveaways such as Guam Love merchandise, hotel stays, and more. 
Start planning that warm tropical escape you've been dreaming about for far too long. Pack a bag and visit Guam in 2017, the Year of Love.