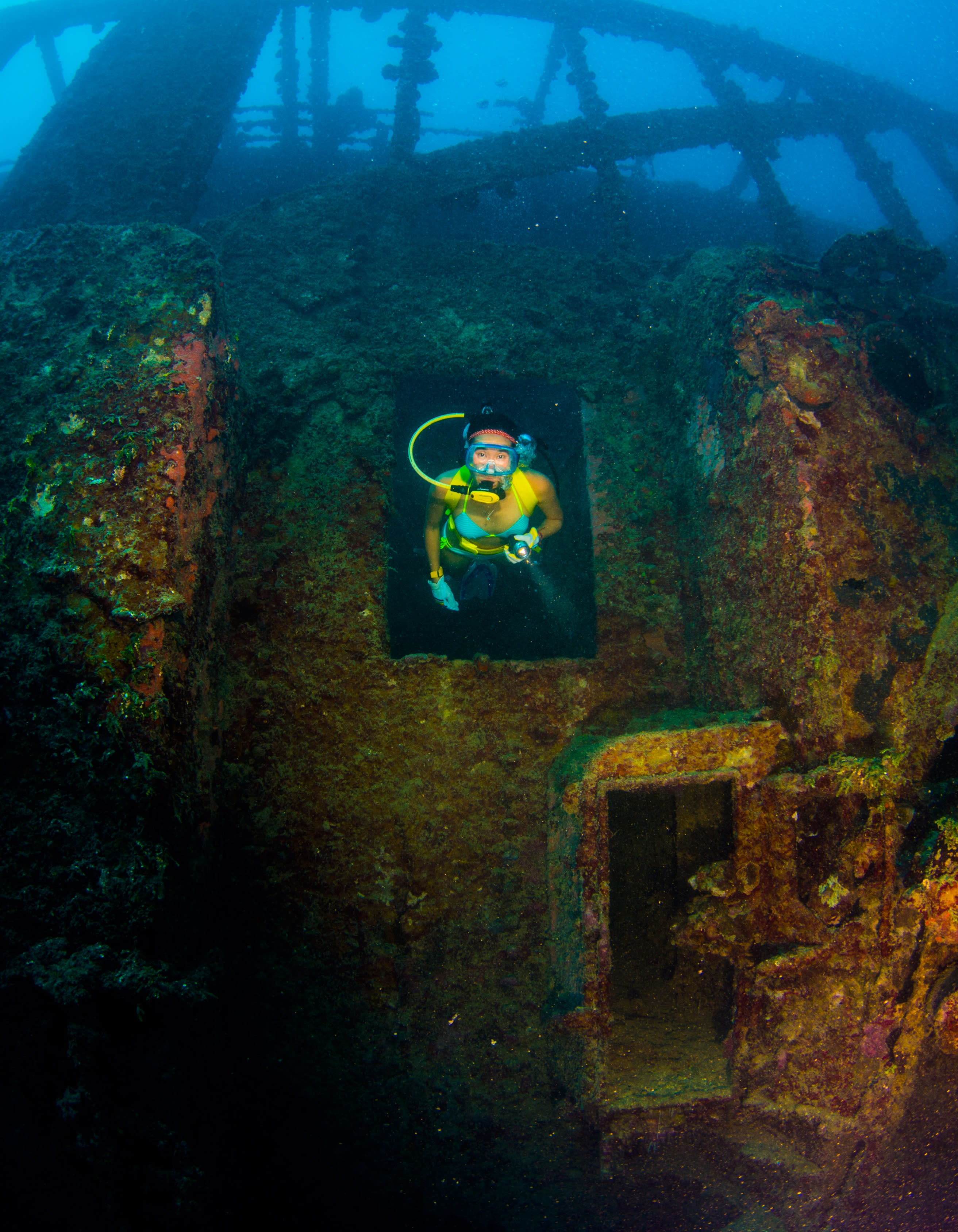 With vibrant reef systems, fascinating marine life and historical shipwrecks, Guam's exceptional oceanic diversity thrills divers every time they go beneath the waves. There are over 1,000 fish species, 500 coral species, and more than 100 dive sites in the warm turquoise waters surrounding Guam, including unique sites such as the SMS Cormoran and Tokai Mauru shipwrecks—the only place in the world where divers can touch shipwrecks from two different World Wars at the same time.
As a premier diving destination, Guam is one of few places that offers ease of travel, hotel and restaurant variety, and convenient scuba training and certification opportunities. Scuba dive training in Guam is among the most advanced and readily available of anywhere in the Pacific. Even if your visit is just a few days, it is possible to get your diving license and experience a few open water dives before your return flight home.
Full Beginner Course
Many of Guam's dive companies offer a full beginner course that includes the academic portion, confined water skill practice, and supervised open water dives. The course can be completed within two days and can cost as little as $300. Many of the island's dive companies are able to instruct in Japanese, Korean, and Chinese languages.
Start Today Online
Students can begin the process of becoming a certified scuba diver even before they arrive in Guam by completing the academic portion online through PADI eLearning. Convenient and flexible, PADI eLearning allows you to work at your own pace, in your own home, and in your own language. With the academic portion complete, you will only need to perform the confined skill dives and open water dives while you're in Guam.
Experience Diving Without a License
If fitting a dive course into your trip is not possible this time around, Guam has options to ensure you don't miss out on an incredible underwater experience. Intro Dive is a popular optional tour that includes a guided dive up to 36 feet (11 meters). There is plenty of variety to observe at 11 meters such as giant sea turtles, barges and wartime relics, colorful fish, vibrant coral, and stunning plant life. An intro dive is a great way to dip your toe in the world of scuba diving before committing to the beginner course.
Other Open Water Options
In addition to scuba diving, there are a variety of other ways you can explore and experience Guam's open waters including snorkeling, SeaWalker, and SNUBA. It is even possible to experience a scuba dive or Sea Trek in a walk-through aquarium.
Whatever your preference is, start planning an unforgettable underwater adventure in the region's world-class diving destination. Guam – it's to dive for!