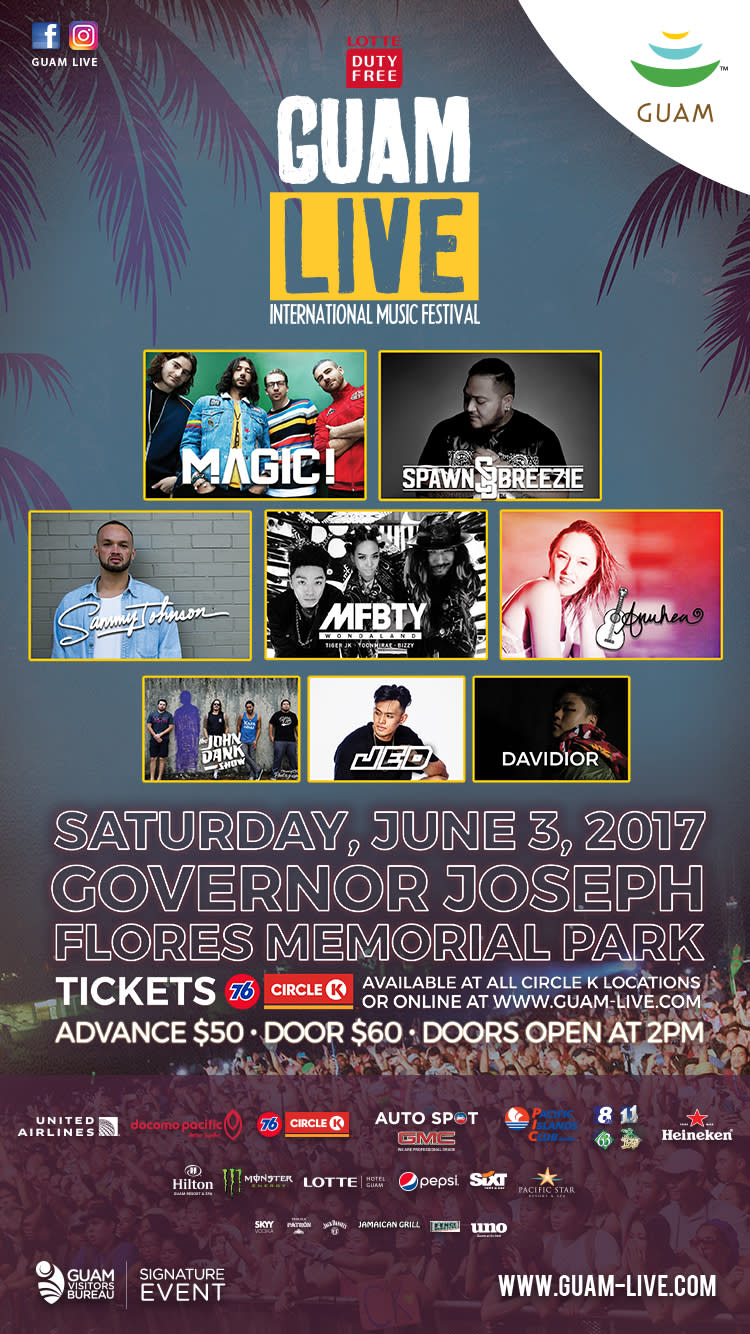 The 4th annual Lotte GUAM LIVE International Music Festival is back with a star-studded lineup of top-notch bands and artists from the U.S., Korea, New Zealand, Hawaii and Guam set to perform live on June 3, 2017 at the Governor Joseph F. Flores Memorial (Ypao Beach) Park in Tumon. 
Check out the lineup below and purchase your tickets to Guam's biggest annual music event at guam-live.com.  
Magic!
Canadian reggae fusion band Magic! will be headlining Guam Live this year. Their debut single "Rude" accumulated 1.2 billion views on YouTube and rose to the top of the charts in the United States and United Kingdom. The multi-platinum band will also perform their other hits "Don't Kill the Magic," "Let Your Hair Down" and "Lay You Down Easy."
MFBTY
Adding to the international flare, Korean hip-hop group, "My Fans are Better Than Yours," or MFBTY has been confirmed to perform at Guam Live. Consisting of some of Korea's most influential hip-hop artists Tiger JK and Yoon Mi-rae, as well as rapper Bizzy, MFBTY debuted in 2013 with their single, "Sweet Dream" and followed with their album, "Wondaland," in 2015. 
International Island Music Stars
New Zealand/Australian island reggae artist Sammy J, best known for hits like "No Sleep" and "Say That You Love Me" will take the stage. In addition, island hip hop sensation Spawnbreezie will perform his smash hits "Oh my goodness" and YouTube hit "Don't Let Go." Guam Live also welcomes Hawaiian contemporary folk rock singer and songwriter Anuhea, known for her hit singles "Sweet Thing" and "Island Inside Me."
Local Guam Musicians
Rising progressive rock reggae local band The John Dank Show will be returning to Guam Live, performing hits from their self-titled EP and album, "Lights" such as "EZ4U," "Playing my part," and "Current." Local hip hop sensation Jed Antonio will also take the Guam Live stage again as a solo act with fresh beats and popular hits such as "The Low" and "Lately." Guam's David "Davidior" Park will cap off the star-studded Guam Live lineup, fresh off co-producing and releasing "I'm the One" by DJ Khaled featuring Justin Bieber, Lil Wayne, Chance the Rapper and Quavo. The number one single has already been viewed over 140 million times on YouTube.
General Admission tickets are $50 per person and can be purchased online at guam-live.com ($60 at the door). For Guam Live updates and other special announcements, follow Guam Live on Facebook (facebook.com/GuamLiveIMF), instagram (@guamliveimf) and twitter (@GuamLive).