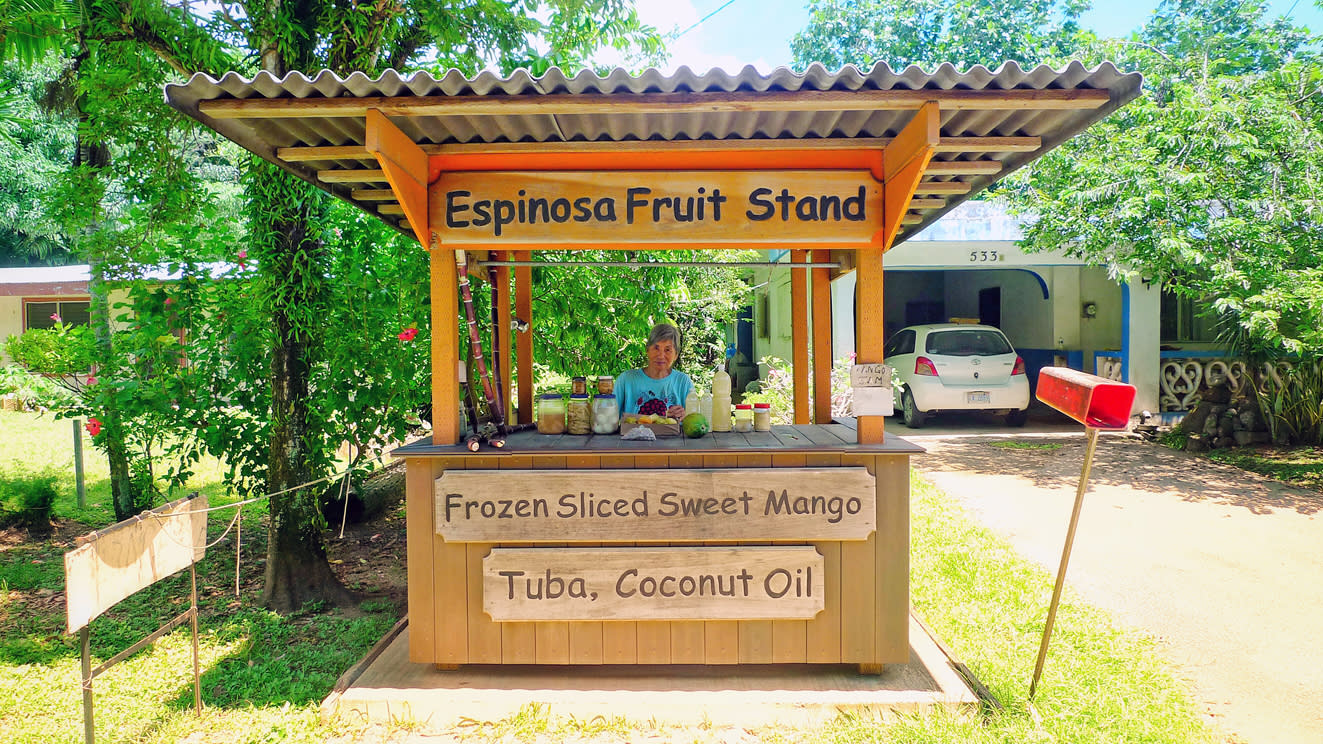 A tour around the island can be made sweeter with a fresh coconut or a juicy star apple. If you spot a local fruit stand by the roadside, don't be shy to stop in for a refreshing taste of tropical fruit. You'll be met with a friendly local who is happy to share their stories and knowledge of the local culture. Here are a few to look out for.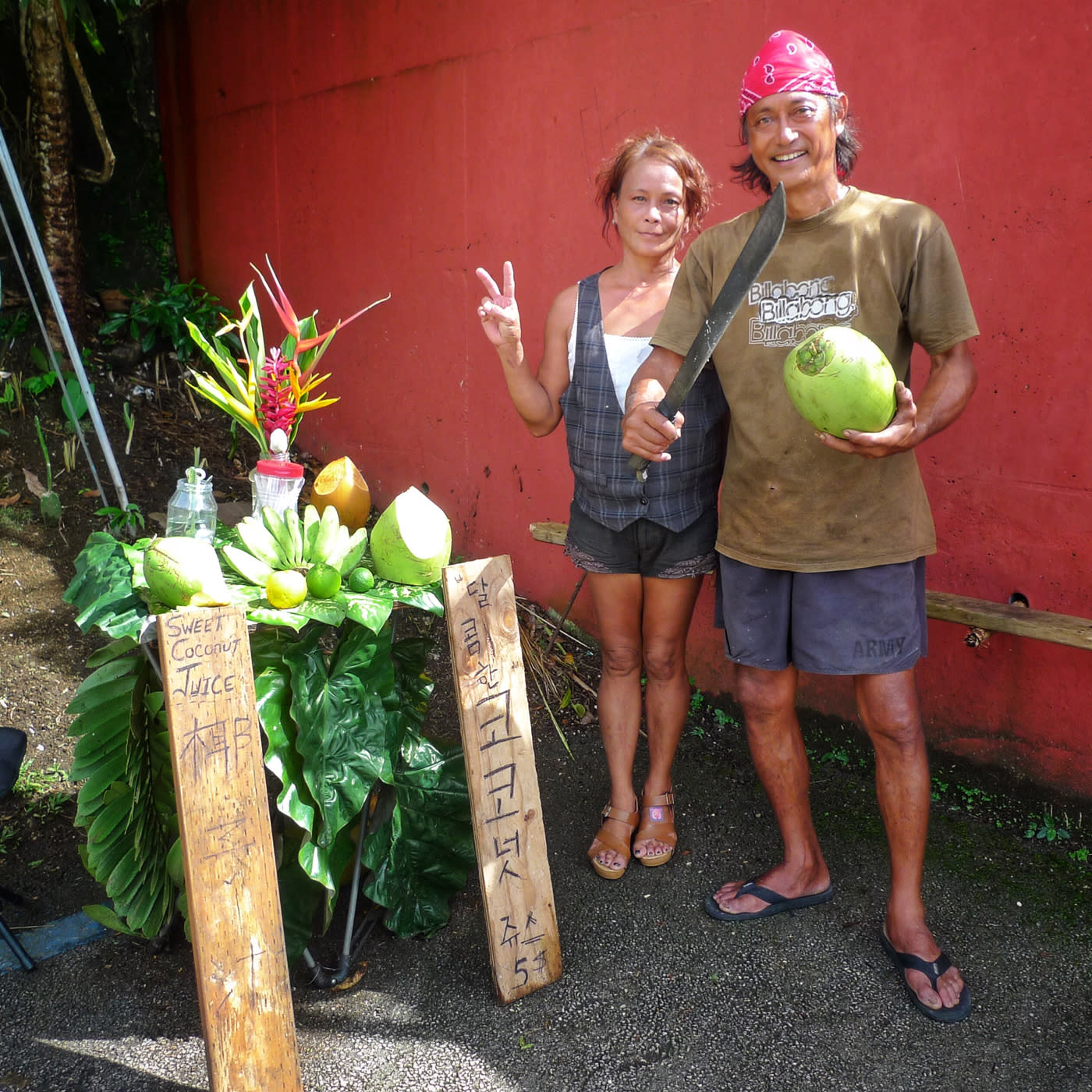 Cetti Bay Overlook
Did you know that different types and shades of coconuts have different medicinal effects and benefits? Just ask Edwin Quinata, a local farmer and the owner of the fresh coconut stand located at the Cetti Bay Overlook. While the common coconut is fat with a thick husk and has a mild taste used for coconut water, the smaller, thinner coconut is sweeter and comes from the trees Chamorros use to make tuba, a fermented drink made from coconut tree sap. Mr. Quinata, who learned traditional medicinal practices from his grandfather, says the juice from a coconut with an orange husk can help with back pain and the juice from a coconut with a spotted husk is beneficial for detoxing. 
Mr. Quinata serves a variety of coconuts that are harvested from his farm and was recently commended by Guam's highest elected leaders for his efforts in promoting, preserving, and practicing the values of the Chamorro people and for sharing the Hafa Adai Spirit with visitors at the Cetti Bay Overlook.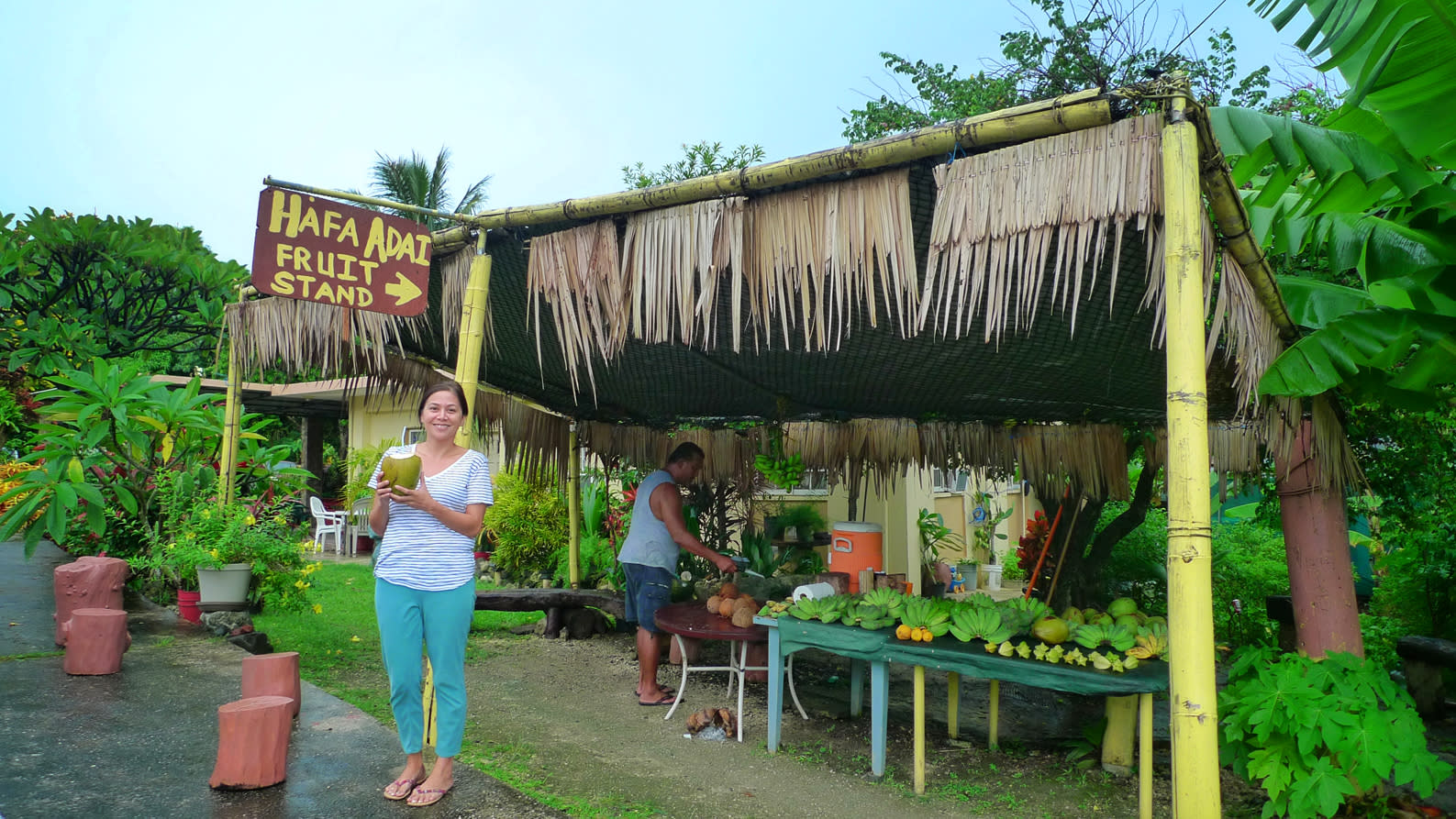 Hafa Adai Fruit Stand
The Hafa Adai Fruit Stand in Umatac is a cute spot right by the bay where visitors can enjoy coconut juice straight from the source. Owned by the Santiago family, the fruit stand sells coconut, bananas, papaya, star apple, and other fruits that are harvested from the family's property. 
There are a number of interesting historical sites to explore in Guam's second oldest village, including the landmark Fort Nuesta Senora de la Soledad. Many of these sites are a part of the Walking Tour of Umatac, and a visit to the Hafa Adai Fruit Stand would be a great way to end the tour.
Espinosa Fruit Stand
Testu "Ty" Espinosa has been running the Espinosa Fruit Stand in Merizo for 45 years, offering fruits and vegetables she harvests herself such as bananas, papaya, mango, pepper, star apple, calamansi, and coconut. She also makes and sells pickled papaya, tuba, coconut candy, miso garlic paste, and other homemade goods. 
Born and raised in Japan, Mrs. Espinosa came to Guam over 60 years ago with her husband, a Chamorro sergeant in the U.S. Army. They settled in Mr. Espinosa's home village of Malesso' (Merizo) where Mrs. Espinosa opened her fruit stand over four decades ago. Today, the Espinosa Fruit Stand is considered a village landmark to residents in the area.