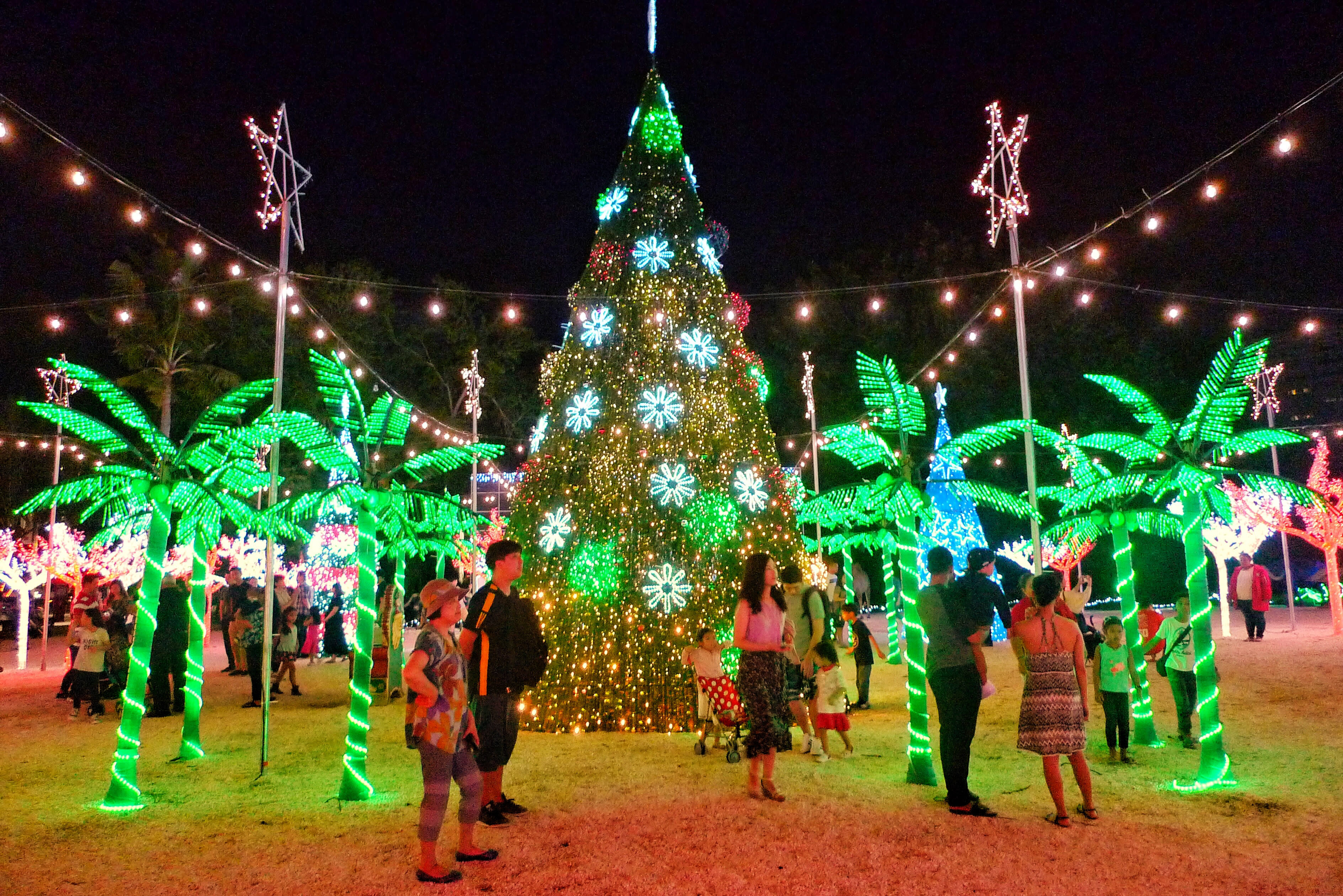 If you're one of the thousands of travelers who will escape the cold winter chill to visit Guam this month, we look forward to welcoming you with warm swimsuit weather, powder sand beaches, and turquoise waters.
December is an exciting time to visit Guam because in addition to a multitude of marine and nature activities, historical sites to explore, and experiences that relax and rejuvenate, there is also a variety of Christmas and holiday-themed displays and events happening this month that will kindle the Christmas in Paradise spirit. 
Here are some of Guam's most popular, free, and family-friendly Christmas displays:
#Guamazing Christmas Village
Featuring towering Christmas trees, oversized toy soldiers and other Christmas characters, a nativity scene, legends of Guam and several life-sized carabao, the Holiday Illumination Village is a collection of familiar holiday characters and some that are truly local. Located next to the Tumon Sands Plaza and sponsored by Guam Visitors Bureau, this year's village theme is "A #Guamazing Christmas" and is open nightly at 6:00pm through January 16, 2018. Tag your pictures with #Guamazing for a chance to win merchandise and gifts!
Magof Nochebuena Peace Festival
Poised on San Ramon hill overlooking Guam's capital village of Hagåtña, the annual Magof Nochebuena (which means "Happy Christmas Eve/Christmas") Peace Festival is an opportunity to visit the island's Government House and roam the grounds that are decorated with festive Christmas lights and scenes, including oversized ornaments that tell the stories of Guam's enduring legends. On Friday and Saturday evenings refreshments are served and the Guam Territorial Band performs. The Magof Nochebuena Peace Festival is open nightly at 6:00pm through January 8, 2018.
Christmas at Guam Congress
Listed on the Guam and National Registers of Historic Places, the Guam Congress Building, also known as the Guam Legislature, was restored in 2016 and is where the lawmaking body of the government of Guam meets. This year is the first year since the restoration that the public has been invited to enjoy the sights and sounds of Christmas at the Guam Congress Building. The Guam Congress Building is open Friday evenings from 5:00pm to 9:00pm in the month of December and on January 5, 2018. Entertainment begins at 7:00pm.
New Year's Eve Fireworks Show
Count down to 2018 with family and friends and enjoy New Year fireworks and festivities right on the beach at the Governor Joseph F. Flores Memorial Park (Ypao Beach) in Tumon. The New Year's Eve Fireworks Show Event will feature entertainment, family-friendly activities, Guam's favorite food trucks, and a dazzling fireworks display at midnight. Admission is free and the celebration starts at 5:00pm on December 31, 2017.