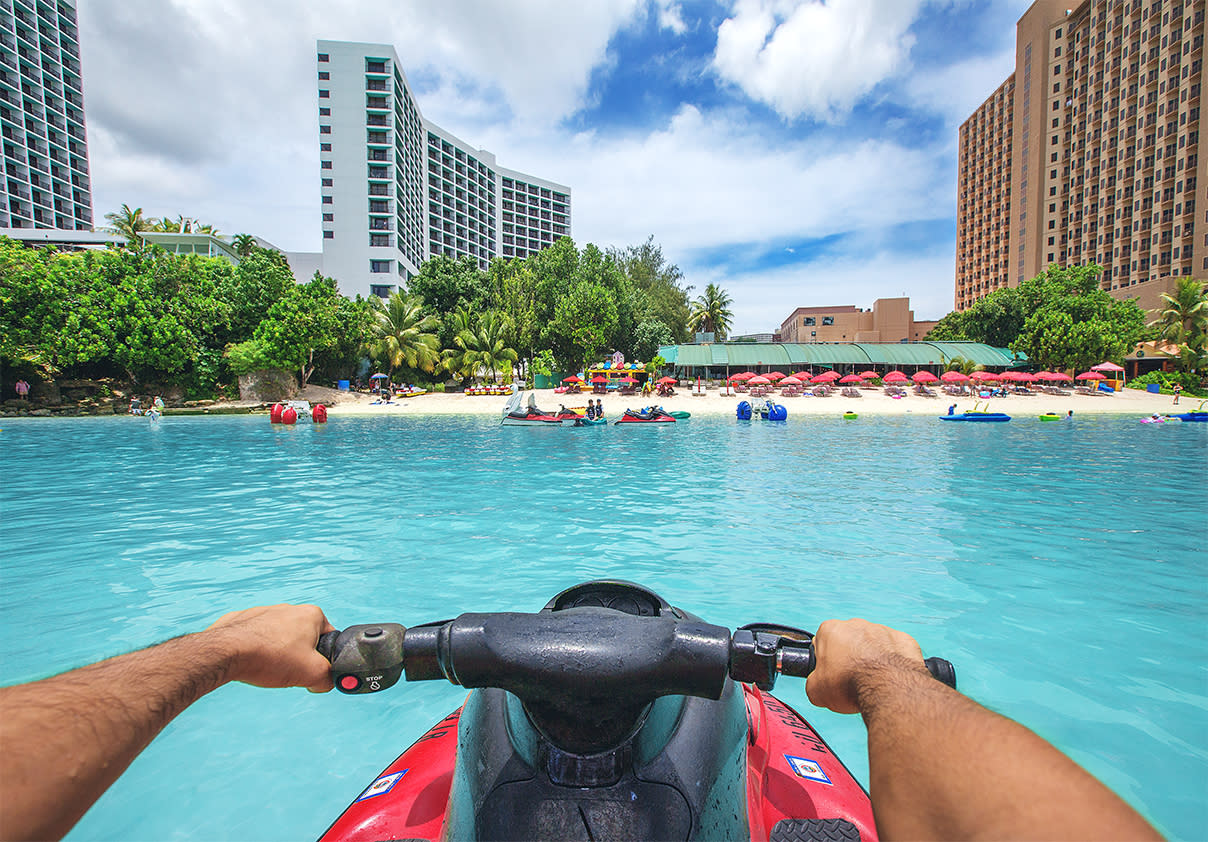 Blessed with swimsuit weather all year-round, Guam is an idyllic, friendly paradise that is home to some of the region's most beautiful beaches, reefs, and landscapes. Whether you plan your own itinerary or take an organized tour, Guam is the perfect tropical holiday destination for everyone. On Guam you will find life to enjoy, new tastes to savor, experiences of a lifetime to remember, and the warm hospitality of our people to welcome you.
Hop on a direct, nonstop flight from a number of cities in Asia and in just a few hours you'll experience #instaGuam – an instant vacation in Guam! Fun, sun, unique culture and experiences – these are ideal components for an unforgettable holiday, and Guam has got it all.
Here are some ideas to jumpstart planning your #instaGuam 2018 getaway:
Adventure
The turquoise waters that surround Guam offer world-class diving, snorkeling, and endless fun on a jet ski, paddleboard, wake board, banana boat, and more. Other exhilarating experiences include dolphin watching, river kayaking, soaring high above the trees on a zipline or over the ocean in a parasail. For the ultimate rush, experience a 60-second skydive freefall from 14,000 feet and enjoy an unforgettable bird's-eye view of the island.
Nature
From powder sand to star sand, Guam's beaches rival the best in the world and deliver stunning views and legendary sunsets on the daily. Mysterious caves, cascading waterfalls, pristine shorelines, and tranquil southern villages offer a variety of opportunities to connect with the great outdoors. Guided hikes called "boonie stomps" lead to some of the island's hidden gems. Even the golfing experience on Guam is one-of-a-kind with greens winding through hills against a backdrop of tropical foliage and ocean waves crashing against the reef.
Culture
Guam is an island whose culture and traditional heritage remains dynamic and strong. 131 sites around the island are listed on the National Register of Historic Places. These historical landmarks include churches, forts, battlegrounds and archaeological sites that weave a fascinating tale of the island's struggles, resilience and victories over thousands of years. Step back in time and visit a re-created traditional village in Inarajan. Catch a cultural dance performance and marvel at the costumes, song and dance. Explore ancient artifacts and latte stones that date back thousands of years. You'll find plenty of ways to immerse yourself in the island's vibrant and intriguing Chamorro culture.
Food
Dining options in Guam range from fine dining restaurants rated as the finest in the region to takeaway fiesta plates and barbecue best enjoyed while sitting under a coconut palm. Guam is especially known for its savory cuisine that combines Asian, Spanish and Pacific influences into a unique island fusion. Chamorro barbecue, red rice and chicken kelaguen are world famous and are just a few local dishes every visitor must try. In addition to local flavors, Guam also has hundreds of restaurants of nearly every cuisine that is sure to please even the most particular palate.
Family
With loads of other activities like waterparks, tunnel aquariums, dinner and magic shows, festivals, fiestas and night markets, there is no shortage of ways for families and groups to create memories that will be talked about for years. From budget apartments to luxury resorts, Guam offers an abundance of family accommodations and caters well for people traveling with children. 
Shopping
Whether shopping for souvenirs or just for yourself, there is no shortage of retail therapy on Guam. Enjoy every shopping experience from large shopping centers to souvenir and handicraft shopping at the Chamorro Village Night Market. Many of the world's luxury designers and fashion houses have boutiques located in Guam. Guam's annual Shop Guam Festival takes place every year from November to February and shoppers can take advantage of the festival's discounts and special offers by downloading the free Shop Guam app. What makes this wide selection of shopping even better is all retail purchases on Guam are tax-free.
Make 2018 the year you plan your #instaGuam holiday. We look forward to welcoming you to Guam!
Learn more at visitguam.com and instaguam.visitguam.com.