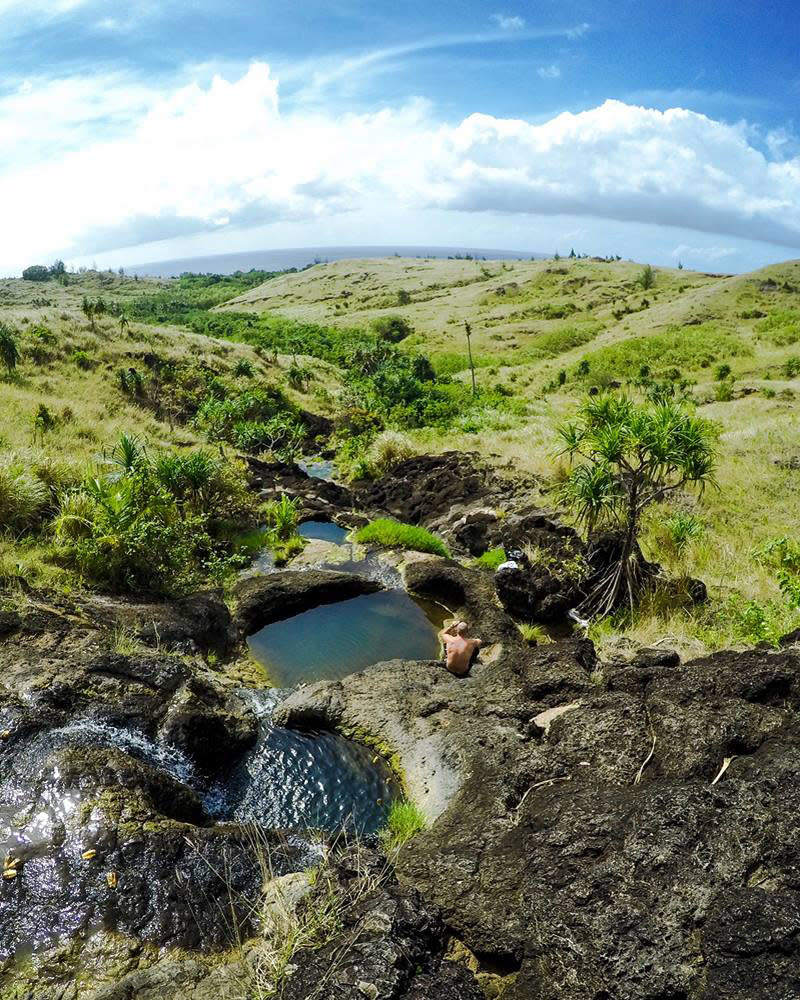 Guam is well known for its pristine beaches and vibrant coral reefs but the island's natural beauty extends beyond its white sand shores and turquoise waters. From north to south, Guam's vivid landscape is rife with hiking trails that lead to picture-perfect waterfalls, natural swimming holes, and breathtaking vistas.
One of these hidden natural gems is Priest's Pools, a refreshing oasis in southern Guam that is tucked away in the breezy hillside of Merizo. Located near the historic San Dimas Catholic Church, whose foundation dates back to the late 1600s, Priest's Pools are named after the Spanish-era priests who often visited the natural freshwater pools to bathe and refresh.
Priest's Pools is a series of eight cascading infinity pools of varied sizes that are continuously filled by the Pigua River as it makes its way to the ocean. The largest pool, and the biggest for swimming, is the top pool measuring in at 9 meters long and 4.5 meters wide with a depth of 2.4 meters.
The wide and easy trail to Priest's Pools cuts through peaceful savannas dotted with wildflowers surrounded by serene views of mountains and the distant ocean. The hike is an easy 15-minute walk to reach the top pool. Reaching the top pool can be achieved by all ages, although climbing down to explore all of the pools will require some aide for little ones.
To reach Priest's Pools, travel south to Merizo. In Merizo, turn off Route 4 at the corner of San Dimas Church onto Chalan Joseph A. Cruz and drive up the hill. Take the second paved left (this particular street is unmarked, however, the first street is N. Doyle St.), drive to the end of the street and park on the side of the road without blocking any residential driveways. Hike along the dirt road trail that begins at the end of the street, which will slowly descend to the right and lead to the top of Priest's Pools.
Click here to locate Priest's Pools on Google Maps.
Priest's Pools is just one of many hiking trails on Guam that offer activity, adventure, nature, and an opportunity to break away from the crowd and get to know the island deeper. After Priest's Pools, explore Fouha Rock, the site of one of Guam's most enduring legends: Puntan and Fu'una, the sibling gods of creation who sacrificed themselves to create the universe. Or go all the way up to the top of Mount Lamlam and see Guam from its highest peak.
Before You Go
Guam's weather is hot, humid, and unpredictable. Wear clothing that will protect from the sun and appropriate shoes for hiking. Also bring plenty of drinking water and be sure to let someone know where you're going and what time you expect to return.