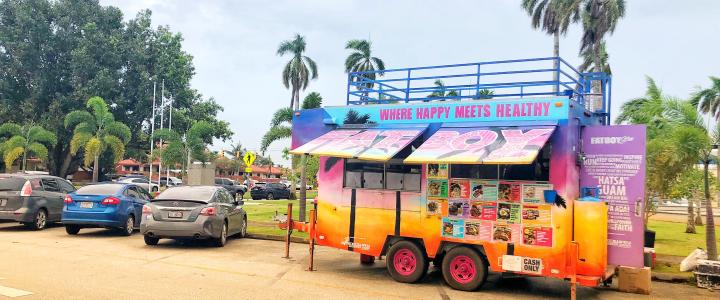 In keeping up with culinary trends, Guam has seen a recent boom in the number of independently-owned food trucks that set up daily around the island and serve savory dishes that can't found in brick and mortar restaurants, and for a fraction of the price. Every food truck is on its own schedule but you can spot trucks regularly parked at the Chamorro Village Wednesday night market, Thursday nights at Skinner Plaza behind the Guam Museum, and Friday nights at the Acanta Mall night market. Other popular spots are Talofofo Bay, East Agana Bay, the village night markets, and the early morning flea markets. Here's what you can find at a few of the island's food trucks.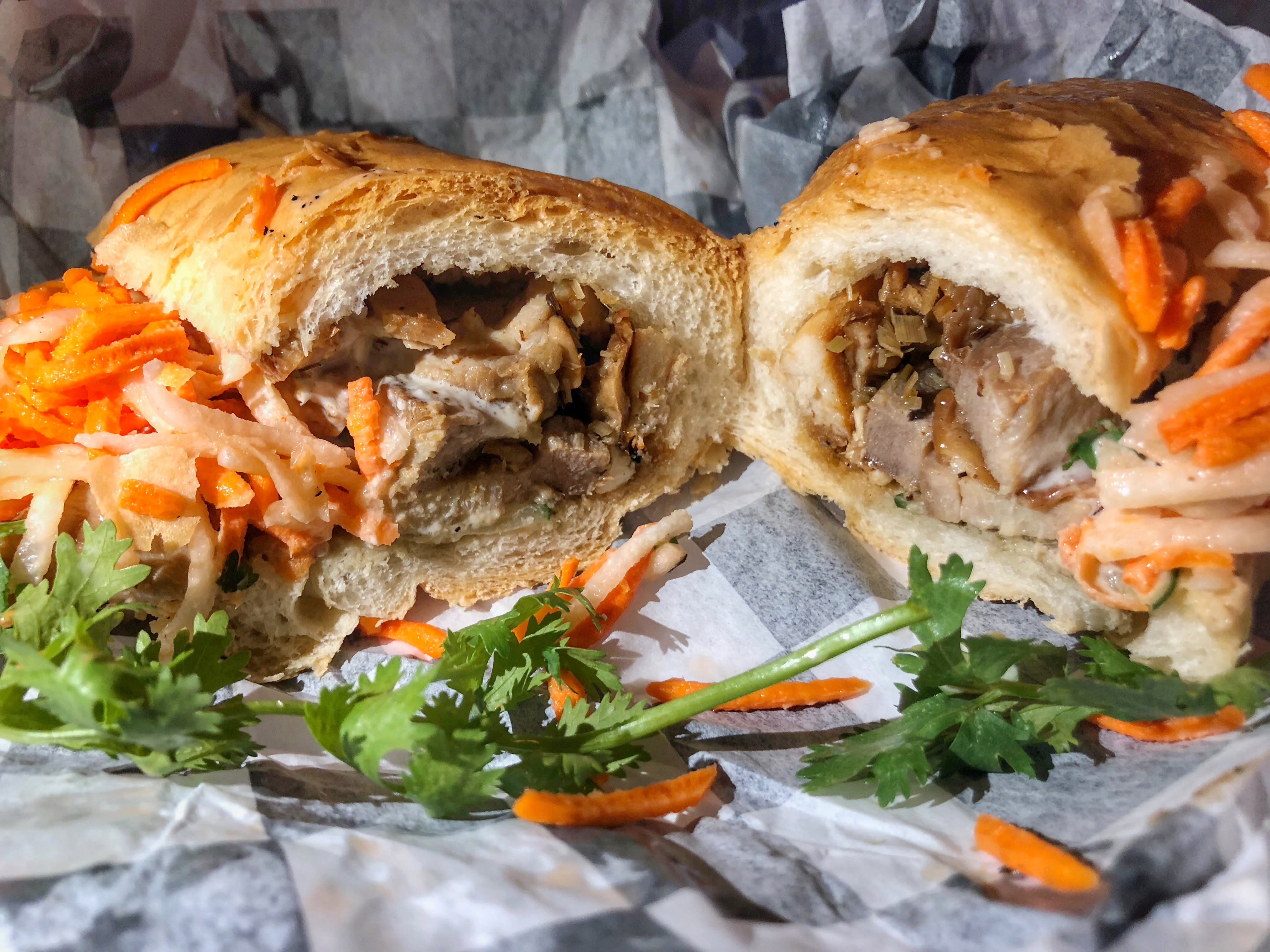 The Food Truck Guam on Tuesdays in Hagåtña 
In an open lot near Ada's Complex in Hagåtña, you can get a quick bite with a view of the sunset and some good company. On any given night, there could be four to five different food trucks set up with engines humming and grills hustling to get your food to you.
One of the humming mobile kitchens is simply named The Food Truck, but their food is anything but simple. This truck serves East-Meets-West cuisine with American fare: burgers and tacos with Guam and Vietnamese twists and flair. "Our Banh mi's are our go-to but our burgers are catching up!" explains owner and operator Joey Atalig.
Atalig says the different style of his food entices customers to try something different.
Check out The Food Truck and try the Banh Mi Burger that has all the flavor of traditional Banh Mi packed into a grilled patty. Or, if you're in the mood for something lighter, ask for the tofu Banh Mi with all the fixings. The tastes and ingredients are fresh and can be paired with tangy calamansi and spicy dinanche (Chamorro spicy garnish) - depending on your preference for taste. For even more variety, most of The Food Truck selections can be transformed and served as a rice bowl.
The Food Truck selections range anywhere from $3 to $10. To find out where the truck is parked any day of the week, check out their Instagram page at @thefoodtruckguam.
Fat Boy Slim at Skinner Plaza by the Guam Museum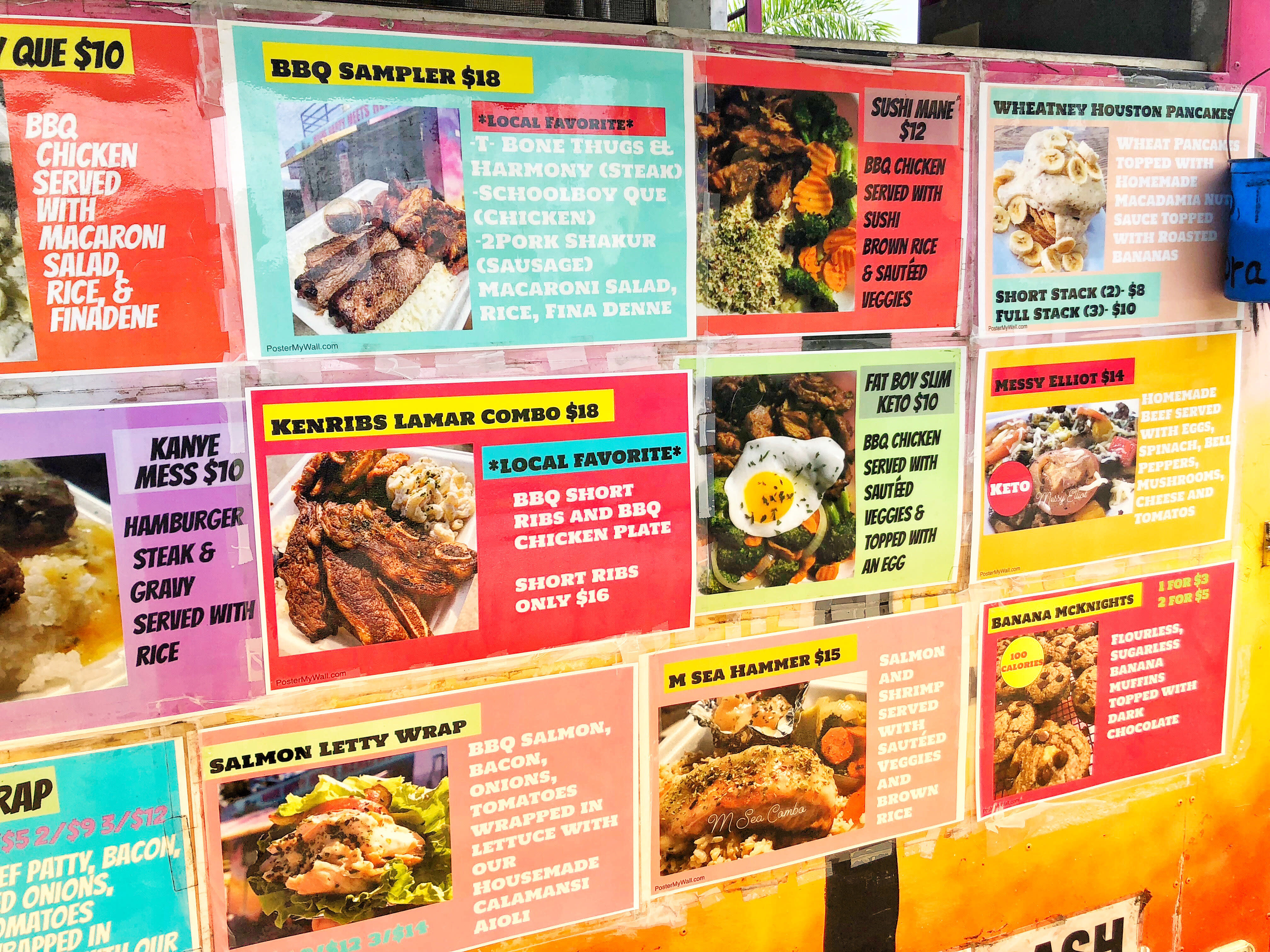 Walking up to the Fat Boy Slim food truck can be quite overwhelming not just because all of the food looks amazing, but the clever names for their dishes are a play on names of famous musicians and performers. "Sushi Mane", "Notorious P.I.G.", "M Sea Hammer", "Kanye Mess" and "WHEATney Houston Pancakes" are all on the menu and then some.
Ray Chargualaf developed his food truck menu with his fitness background in mind - balancing the healthy with the hearty. "I wanted to create a concept where happy meets healthy," he explains. Chargualaf and his team remain faithful to the concept; often selling out their most popular dish: barbecue chicken paired with their School Boy Que, Sushi Mane, and their Fat Boy Slim keto-friendly bowl.
"Food is ingrained in our culture," says Chargualaf. "Wherever there's food, there's going to be people around. When there's people around, that means good times, you're creating and sharing memories, and food is the centerpiece for that!" He continues by saying that sometimes it's not always the healthiest options, which is where they come in.
Be sure to get their early for lunch to try their famous chicken! But, if you miss out on that, the steak and pulled pork are delicious options. For a flavor boost, any combination can be upgraded with sushi rice. Prices range anywhere from $5 for a single patty hamburger lettuce wrap ("Letty Wrap") to $18 for the ultimate BBQ sampler plate which includes steak, chicken, and sausage on a bed of rice and macaroni salad.
Fat Boy Slim moves around every three months, so the best place to find out where they're posted is on their Instagram page @fbsguam. Check them out for something quick, easy, healthy, and tasty!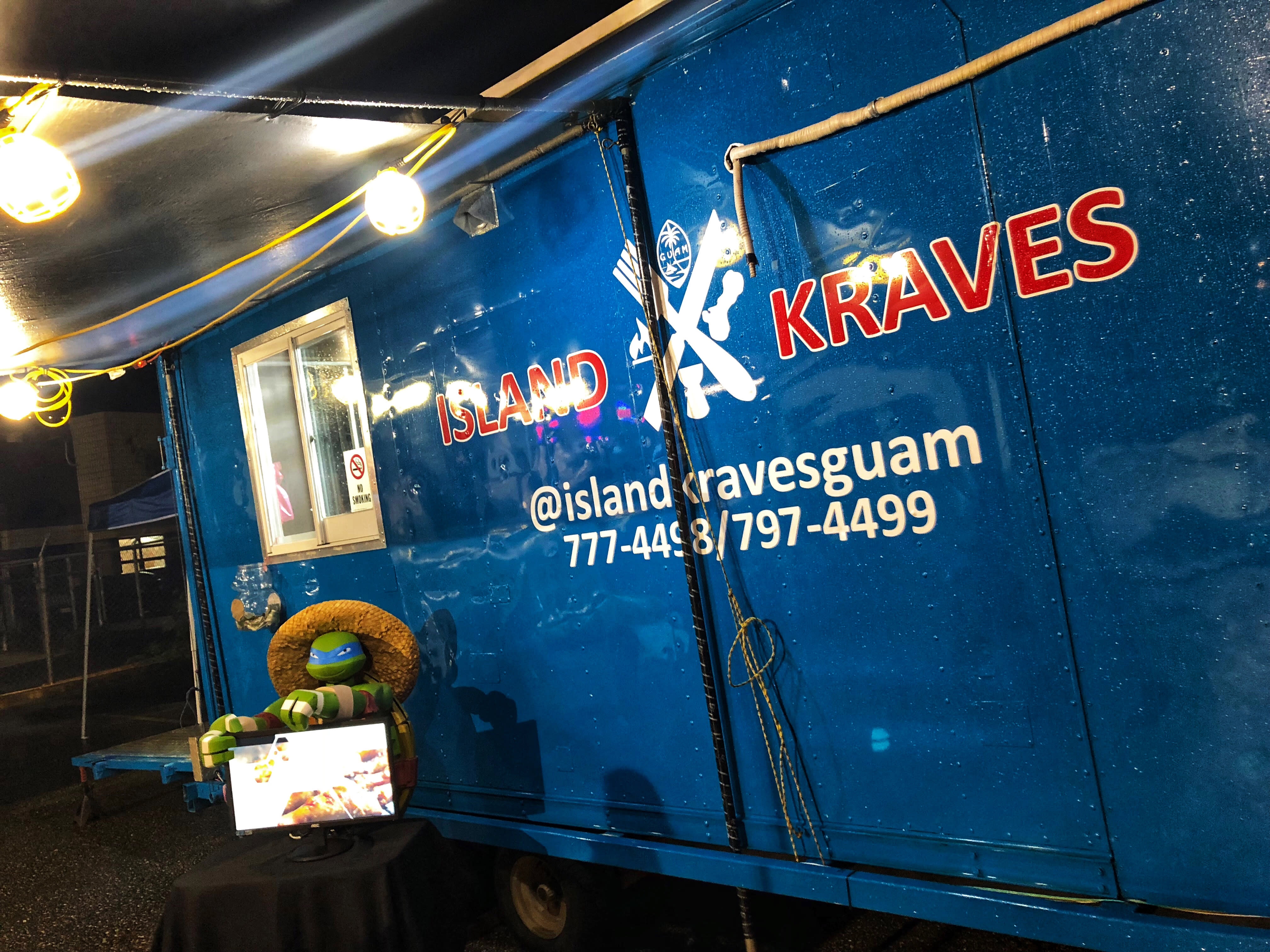 Island Kraves at the Tumon Friday Night Market at Acanta Mall 
There's a new night market at the Acanta Mall in Tumon and a big part of it includes a selection of food trucks that bring a taste of Guam to visitors and locals.
Island Kraves owner Clayton Flores says, "A lot of the times when people come up to us they say, 'I remember this from when my grandma used to make it!'"
Island Kraves specializes in local comfort food that invokes nostalgia in their local customers with dishes like beef tinaktak (beef in coconut milk with string beans), tinala kåtne (smoked beef), smoked turkey legs, parrot fish, and kadun pika (spicy chicken stew), and so much more. Plates range from $8 to $12 at Island Kraves and is most definitely worth it.
"The Food truck culture is very new to Guam; typically it's the fiestas," Flores points out. "The food truck is a hot thing now, so the culture is sharing a little of what they had growing up." To find out where Island Kraves is parked, visit their Instagram page at @islandkravesguam.
Guam's food trucks fill a wide variety of niches but they all agree that food alone isn't the centerpiece of their trucks – it's also about the island culture and creating a sense of community while satisfying hungry appetites.