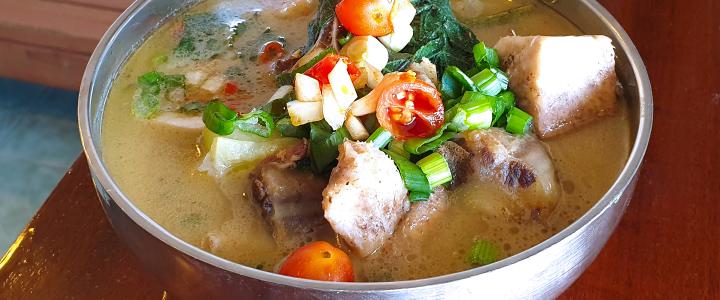 Want to know how to cook like a CHamoru? Here's how to make oxtail kadu, a dish known for its comforting qualities, mainly because it's meant to be shared:
Oxtail Kadu (serves two people)
Ingredients
1 lb oxtail
2 ounces onion
2 ounces ginger
1 clove of garlic
2 quarts of water
3 ounces taro
3 ounces papaya
1 cup pumpkin tips (can be substituted with spinach)
2 ounces long beans
½ cup coconut milk (½ cup)
1 stalk of green onion
Directions
Chop all ingredients
Sear oxtail on high heat with a little oil until hard.
Season with a teaspoon of salt and pepper. Brown meat with a teaspoon of soy sauce.
Add onion, ginger, and garlic.
Add water.
Let it come to a boil, simmer on medium heat for 2 ½ hours, stirring occasionally.
Add a tablespoon of salt.
After 2 hours, add taro.
After 2 hours, 40 minutes, add papaya.
After 2 hours, 55 minutes, add pumpkin tips and long beans. Let it come to a boil.
Add coconut milk, then turn off heat. Add green onions.
Serve with fina'denne.
To make fina'denne:
Ingredients
1 ounce onion
2 donne' (peppers)
3 cherry tomatoes (cut in half)
3 calamansi
¼ cup soy sauce
Directions
Chop onion, peppers, and cherry tomatoes.
Squeeze calamansi.
Mix onion, peppers, cherry tomatoes, calamansi juice, and soy sauce.
In this step-by-step-video, local chef and restaurant owner Lenny Fejeran shows us how simple it is to Cook Like a CHamoru and make oxtail kadu.
Lenny Fejeran and his wife Pika opened their fourth restaurant, Kadu, on November 1, 2018. Their restaurant is designed for people that are always on the go, or too busy to eat a real homestyle CHamoru meal. Everything on their menu is to-go, because "kadu is meant to be eaten at home with the family...that's tradition," said Fejeran. "It's CHamoru comfort food made accessible and done right."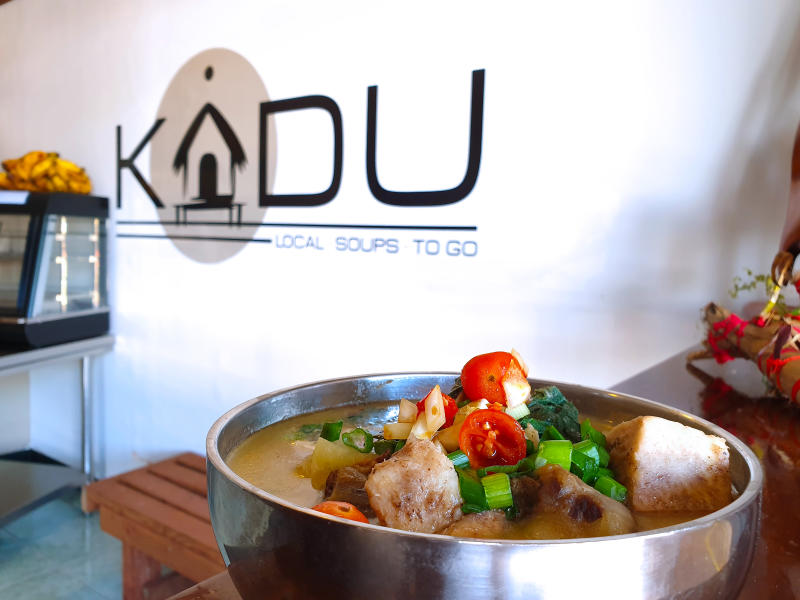 Kadu
Open Monday to Friday from 10:30am to 8pm and Saturdays 11am to 8pm
Facebook and Instagram: kaduguam