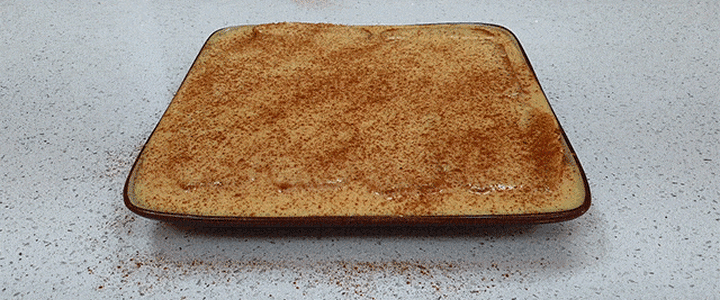 It's time for another Cook like a CHamoru recipe! If you want to learn how to make Latiya, a local favorite dessert, follow the recipe below!
Ingredients 
• 1 can condensed milk
• 1 can evaporated milk
• 1/2 cup coconut milk
• 4 - 6 egg yolks
• 1 pound cake (store bought or homemade)
• Cinnamon
• Vanilla extract 
Pound Cake recipe: 
• 1 cups salted butter, room temperature 
• 1 cups granulated sugar
• 4 large eggs
• 2 ½  cups all purpose flour
• 1 tsp baking powder
Directions 
1. Heat a medium sized pot over medium heat. Add all three milks and stir to combine. Bring to a low boil. 
2. Separate egg yolks into a large bowl. Whisk together. Temper the eggs by slowly adding half of the milk mixture and continue to stir. Once combined, add all of the milk mixture to the bowl. Mix for 3 minutes. 
3. Pour mixture back into the pot and set heat to low. Stir 3 minutes on heat and 1 minute off the heat to ensure the eggs don't scramble. Continue to stir until custard starts to thicken. Should take about 5-10 min. 
4. Set aside to prepare cake. If using a store bought cake, cut in thick slices and place down in a serving dish. Pour custard over cake evenly. Place in the fridge to cool for at least 2 hours. Finish with cinnamon.
5. If making the cake, preheat the oven to 375F.
a. Beat the butter until smooth with a hand mixer. Add the sugar and mix until smooth. Then add eggs one at a time.
b. Add the dry ingredients to a bowl. Slowly add the dry ingredients to the wet and mix on low until fully incorporated. Pour batter into a loaf pan or cake pan. Place in the oven and bake for 35-40 minutes or until the center comes out clean when poked with a skewer. 
In this step-by-step video, Chef James shows us how to make Latiya at Payless Dededo's eduKitchen!