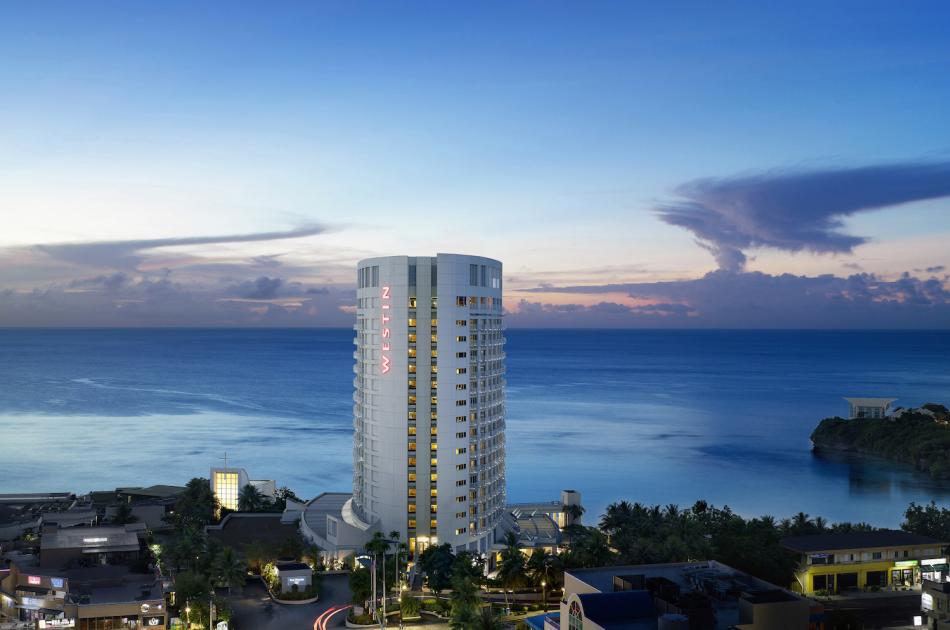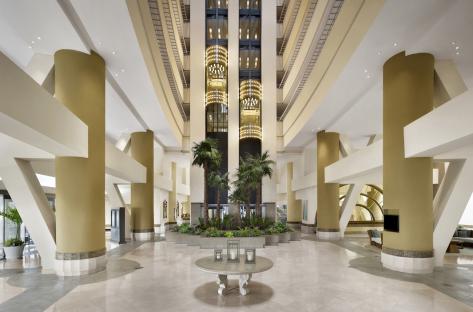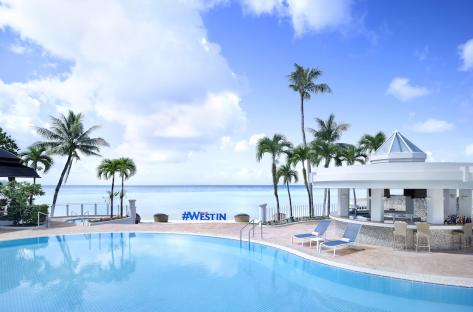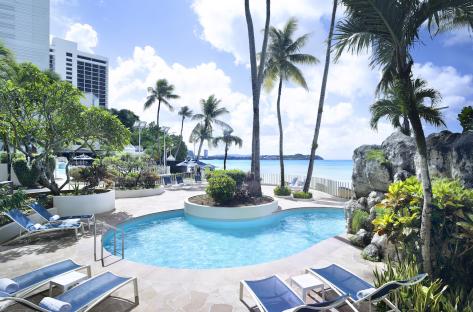 about

The Westin Resort Guam

Escape to a luxurious tropical paradise with sandy beaches and sparkling turquoise waters at The Westin Resort Guam.

Our ideally-located oceanfront hotel on Tumon Bay is an awe-inspiring natural destination that will leave you feeling better than when you arrived.

Take a dip in our refreshing pools, explore crystalline waters by kayak, scuba dive alongside colorful fish, sign up for Westin Family programs or engage in entertaining magic shows to spark your inner imagination.

Stay active in our 24-hour WestinWORKOUT® Fitness Studio, shop till you drop in Guam's duty-free stores, or relax in our full-service spa. Catch up on sleep with our Westin Heavenly® Bed and revitalize your well-being with delectable on-site dining, including an award-winning buffet boasting international cuisine. Guests seeking the ideal venue for business meetings will be delighted with our hotel's exquisite event spaces boasting room for 400 attendees.

The possibilities are endless for lasting memories at The Westin Resort Guam.

Westin Hotels & Resorts® indulge our guests in elements of well-being. Our refreshing ambience, innovative programs and thoughtful amenities help provide a stay that leaves you feeling better than when you arrived.


Our more than 185 hotels and resorts worldwide are defined by modern design, instinctive service and a rejuvenating atmosphere. Whether you're golfing in Spain, snorkeling in Bali, or sightseeing in Times Square, Westin delivers an experience unlike any other.


The Westin Essence


Immerse yourself in the Westin Essence. It's how we transform every aspect of a stay into a revitalizing experience. From our world-renowned Heavenly® Bed to our delicious SuperFoodsRx™ dishes and energizing WestinWORKOUT Fitness Studio, each of our signature offerings has been specially designed with a better you in mind.
General

Suites Available:

Vacation Rental:

100% Smoke Free:

1-Bedroom Units:

2-bedroom Units:

Bed & Breakfast:

Complimentary Membership for Guests:

Efficiency:

Long Term Accommodations:

Military Discount:

Mobil Rated:

Non-smoking Rooms:

Oceanfront:

Pet Deposit/Fee:

Pet Friendly:

Resort:

Senior Citizen Discount:

Suites:

Travel Agency Commission:

In-Room

24 Hour Room Service:

Air Conditioning:

Cable:

Coffee and/or Tea maker:

Color TV:

Daily Newspaper:

Data Ports:

Express Check-in/out:

Free Newspapers:

Hair Dryer:

High Speed Wireless Internet:

In-Room Spa:

Iron & Ironing Board:

Jacuzzi:

Kettle:

Microwave:

Mini Bar:

Radio Alarm Clock:

Refrigerator:

Room Safe:

Room Service:

Rooms with Private Bath:

Safe:

Second Line/Modem:

Smoke-Free Rooms:

Telephones:

Television:

Video:

On-Site

A/V on Site:

Airport Shuttle:

Babysitting Available:

Bakery:

Barbeque:

Boat Rental:

Breakfast Included - Continental:

Breakfast Included - Full:

Bus Parking:

Business Center:

Business Services:

Childrens Programs:

Club Level Floor:

Coffee Shop:

Comp. Breakfast:

Concierge Desk:

Conference Center on SIte:

Entertainment:

Exercise/Fitness Facilities:

Free Parking:

Full Bar/Lounge:

Gift Shop:

Guided Tours:

Handicapped Facilities:

Happy Hour:

Hot Tub:

Hotel Bar:

Internet - Free:

Internet - Wireless:

Intracoastal/Waterfront:

Jacuzzi:

Kayaks:

Kiddie Pool:

Laundry Facilities:

Laundry Service/Drycleaning:

Library:

Lounge/Bar/Restaurant:

Meeting Facilities on Site:

Outdoor Dining:

Outdoor Event Venues:

Outdoor Pool:

paddleboats:

Pavilion:

Pet Friendly:

Pontoon:

Pool:

Recreation Center:

Rental Cars on Site:

Restaurant:

Restaurant on Site:

Restrooms:

Rowboats:

Self & Valet Parking (Charges Apply):

Shuttle Service - Airport:

Shuttle Service - Port:

Shuttle Service Port (Free):

Snack Bar:

Spa on Site:

Sunday Brunch:

Swimming Pool:

Tape Tour:

Unwind Hour:

Valet Parking:

Washer/Dryer:

Watersport/Beach Gear Rentals on Site:

Whirlpool/Jacuzzi in Room:

Wireless Internet:

Largest Room

3610

Total Sq. Ft.

3610

Reception Capacity

350

Theatre Capacity

250

Beach BBQ

true

Japanese Restaurant

true

Snack Bar

true

Banquet Capacity

350

Number of Rooms

7

Classroom Capacity

140

Somnak 1

Total Sq. Ft.:

2357

Length:

3.6

Theater Capacity:

220

Classroom Capacity:

140

Somnak 2

Total Sq. Ft.:

1249

Theater Capacity:

80

Classroom Capacity:

60

Banquet Capacity:

60

Somnak 1 and 2 combined

Total Sq. Ft.:

3606

Theater Capacity:

350

Classroom Capacity:

200

Banquet Capacity:

250

Unnai 1

Total Sq. Ft.:

452

Theater Capacity:

35

Classroom Capacity:

25

Banquet Capacity:

20

Unnai 2

Total Sq. Ft.:

538

Theater Capacity:

40

Classroom Capacity:

30

Banquet Capacity:

30

Unnai 3

Total Sq. Ft.:

1335

Theater Capacity:

120

Classroom Capacity:

80

Banquet Capacity:

90

Unnai 1, 2 and 3 combined

Total Sq. Ft.:

2314

Theater Capacity:

200

Classroom Capacity:

120

Banquet Capacity:

140

Unnai 1 and 2 combind

Total Sq. Ft.:

980

Theater Capacity:

100

Classroom Capacity:

60

Banquet Capacity:

60

Unnai 2 and 3 combind

Total Sq. Ft.:

1873

Theater Capacity:

160

Classroom Capacity:

90

Banquet Capacity:

100

Pution

Total Sq. Ft.:

603

Theater Capacity:

15

Classroom Capacity:

20

Banquet Capacity:

30

Ipilan

Total Sq. Ft.:

474

Theater Capacity:

30

Classroom Capacity:

15

Banquet Capacity:

20

Starlight area

Misty's area

Beach

Entire Poolside